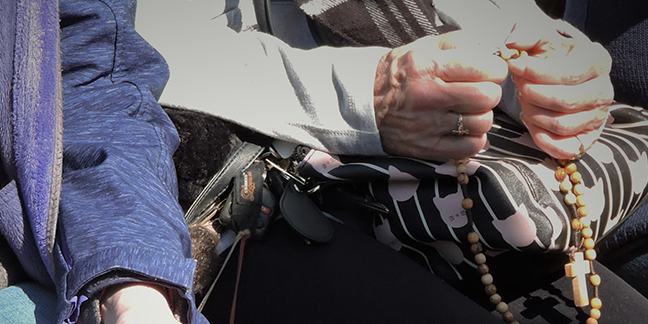 HUNTERSVILLE — Parishioners at St. Mark Church took part in a "Mirror March for Life" to coincide with the national March for Life in Washington, D.C., Jan. 19. Other parishes across the Diocese of Charlotte also held hours of Eucharistic Adoration, Masses, and prayer services to show solidarity with the tens of thousands of people who traveled from across the U.S. to the nation's capital to protest the killing of nearly 60 million people over the past four decades that abortion has been legal in the U.S.
At St. Mark Church, Deacon Louis Pais opened the parish's second annual Mirror March for Life with a prayer to life and for those babies who have been aborted.
Approximately 65 people stood together and prayed that the abortion clinics would be shut down and that local and state representatives would see with open eyes the sin that has been created by these institutions.
Christopher Cross led the gathering in prayers and also shared his testimony and witness to the unborn.
The group began in front of the church and then moved to the Memorial for Life and prayed the rosary.
The Mirror March was organized by the parish's Respect Life Ministry to offer an opportunity for those who could not go to Washington, D.C., to stand and pray in solidarity with our brothers and sisters at the national March for Life. Volunteer Charlie Margo was the event coordinator.
— Amy Burger
Read more from the National March for Life: