'It's amazing to see how the parish has grown'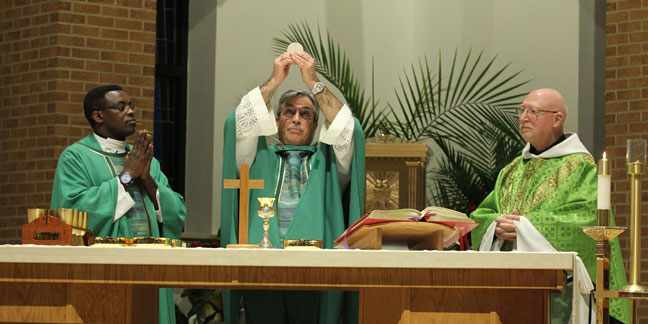 MOORESVILLE — St. Thérèse Church, the third largest in the Diocese of Charlotte, has much celebrate. On Jan. 27, Father Mark Lawlor, pastor, presided at Mass celebrating the 30th anniversary of the parish's location on Brawley School Road. Parochial vicar Father Henry Tutuwan and Benedictine Father David Brown, the first known vocation from the parish, who grew up in the little town north of Charlotte and now resides at Belmont Abbey Monastery joined him.
Father David, as he is called, gave the homily at the anniversary Mass, where he reminisced about his childhood and the parish's early days.
"It's amazing to see how the parish has grown," he said. "When I was a boy, there was not a parish church. We met in the houses of other parishioners. I don't remember that, I was too young. When the parish church was built, the whole thing could probably fit in this present church lock, stock and barrel – it was that small.
"When I was in high school, there were exactly four Catholics in the whole school, and my brother and I were two of them."
St. Thérèse Church has seen explosive growth since its founding. Established in 1956, the Mooresville parish has been among the fastest-growing parishes in the diocese in recent years. The former parish church, (now the St. Ignatius Day Chapel) was dedicated on Jan. 30, 1988. At the time the church was dedicated, there were 310 registered families. It now ranks as the diocese's third-largest parish with almost 4,200 registered families, behind St. Matthew Church in Charlotte (10,000-plus families) and St. Mark Church in Huntersville (5,400 families), according to diocesan statistics.
After Mass, hundreds of parishioners gathered in the Lewis Mack Parish Life Center for a dinner celebration. Tables were adorned with images of St. Thérèse of Lisieux, the parish's patron, and rosebush seed packets as little party favors for parishioners to take home to plant in their gardens.
Genevieve "DD" Goodman, and her late husband Robert were married in the original parish church on North Main Street in 1955. Her family has a 63-year history with the parish, and many fond memories of all of their children's sacraments being received there.
"They moved the chapel up from one of the Marine barracks in 1949. My husband planted the shrubbery. We had fun," Goodman said.
"I wasn't a Catholic when he came to Mooresville (to live). We were married in 1955. I joined the Church when we were married," she said. "Father Brown was one of my students (in religious education at the parish). He's smart, very studious. He's a teacher."
One of Goodman's lifelong friends, Elizabeth Koury, was also at the celebration. The two raised their families in the parish and are now considered the matriarchs of St. Thérèse Church.
"When we used to pray, 'God let us grow,' we should have said, 'Wait a minute!'" Koury joked. "We were so small and now we are so large. Having been here when it was so small, I used to know if someone didn't come to Mass, they had to have a good reason."
The two were happy to see each other, as Koury now counts on her son Chuck, who was baptized in the old St. Thérèse Church building, to bring her to Mass and parish events.
"Our kids grew up together," Goodman recalled. "Bill (Elizabeth's husband) and I both taught CCD. I rounded up all the kids and brought them all to church for CCD."
Koury chimed in, "We did everything. There were so few of us. I cleaned the church every Friday before I went to work."
Relative newcomers to St. Thérèse Parish, John and Bobbie Calzolano, were asked to bring up the gifts at Mass. They relocated from New Jersey a year ago to be near one of their sons and his family.
"We were very honored," John Calzolano said. "We have been parishioners for over a year. We have six children and 17 grandchildren, and have been married for 53 years."
Joanne Rizzo and her husband Bob have been parishioners for 27 years. She said she loves the parish because "It's the people. It's not the church. There are good people here."
Her in-laws, Michael and Vilma Rizzo, have been spending time in Mooresville with them on and off over the past 15 years.
"I was here when this building was first built, before the new church was built," Michael Rizzo said. "We hope to relocate here. We made a lot of friends here."
"It's a lovely place to worship, I feel very much at home here," Vilma Rizzo added.
Father Paul McNulty, one of the new parochial vicars at the parish who was assigned to St. Thérèse Church last July, attended the celebration after Mass. He and Father Lawlor are the first diocesan priests to lead the parish in nearly five decades, following the 2017 relocation of the Jesuits who had served the parish since 1970.
"The community has been incredibly welcoming to us," he said. "Father Mark and I had some incredibly big shoes to fill since the Jesuits had been here for so long. Everyone has welcomed us with open arms.
"There is a very generous spirit here at the parish and we have been grateful for that."
— SueAnn Howell, senior reporter
























Remembering Yesterday: The Story of St. Thérèse Church

The St. Thérèse community of faith, celebration and service began on Jan. 6, 1946, as the St. Gerard Mission of St. Joseph Church in Kannapolis. Redemptorist priests came to the Van Hoy's home on North Church Street to celebrate Mass for about a dozen people. The Catholic population of western North Carolina was about 6,000.

In 1949, as the St. Thérèse Mission, the faith community occupied its next home at 761 Main St. The church was a reconstructed chapel from Camp Lejuene, seating about 168 people, with the pastor's quarters in a loft above the sanctuary. St. Thérèse Church became an independent parish in 1956, and in 1957 constructed an addition for the pastor's quarters and later offices. In 1961, the parish acquired a home next door for a rectory and in 1967 another home was purchased to be used for classrooms. At that time, the parish had three buildings on 1.57 acres and was comprised of about 50 families.

In 1972, the Diocese of Charlotte was created. In 1983, the Mooresville parish added a meeting room to its facilities. There were more than 100 families and the parish took over Catholic Campus Ministry at Davidson College from St. James Church in Concord. The Catholic population of the diocese had risen to more than 63,000 people.

The St. Thérèse Parish connection with the Jesuits of the Maryland Province began in 1970 with the pastorate of Jesuit Father Calvert Brown, whose warm, friendly personality helped him win over the hearts of many Protestants in the Mooresville area. Through the years the parish was blessed with a long line of wonderful Jesuit priests. Each encouraged and inspired the faith community with their special charism and Ignatian spirituality.

On July 20, 1986, the parish broke ground at the current site on Brawley School Road. Having sold the church building, the parish met at Central United Methodist Church until moving into the present facility on Jan. 30, 1988. At that time the parish had 310 families.

By late 1992, the Catholic population of the diocese had surpassed 75,000 people and St. Thérèse Parish, with 735 families, had become the fastest-growing parish in the diocese. In March 1997, with its congregation continuing to grow, St. Thérèse Church was divided into two parishes: St. Mark Church in Huntersville was formed and took over the ministry at Davidson College.

By March 1998 St. Thérèse Parish was back up to the number of families it had before the establishment of St. Mark Parish.

In the spring of 1999, the parish had 1,080 families and was fast outgrowing its space. A capital campaign was launched to construct a parish life center to house the education and music ministries, and a social hall to accommodate parish-wide events, sports and holiday Masses.

In September 2002, the Lewis Mack Parish Life Center, named for one of the parish's founding members, was dedicated. The Parish Life Center brought new life to the parish and allowed the parish to expand its ministries in the parish and in the community.

Today St. Thérèse Church has more than 4,195 parish families and more than 1,200 children and youth in its faith formation programs. It is one of the largest parishes in the Charlotte diocese.

There are more than 63 active ministries at the parish, including a number of outreach programs. Parishioners are active at the Mooresville Soup Kitchen, Christian Mission and Our Town Habitat for Humanity, and the parish has an active Relay for Life team.

St. Thérèse Parish has its own Food Pantry and distributes Easter, Thanksgiving and Christmas food baskets to those in need. The Christmas Giving Tree program provides gifts to the poor in the Mooresville area.

An increasingly important part of the parish's apostolic outreach has been its work among the Latino population of the area. Although the number of parishioners who speak Spanish as their first language seems to hover only around 10 percent, the sacramental work extends far beyond the parish boundaries. The future looks bright because of the increasing numbers of Latinos who are settling in the Charlotte diocese.


History of Priests at St. Therese

1946 - 1954: Redemptorists from Kannapolis
1954 - 1970: Diocesan priests served as pastors
1970: Consolata Society Priest served as pastor
1970 - 2017: Society of Jesus (Jesuits) served as pastors
2017 - current: Diocesan priest serves as pastor

Years Pastors

1946-1947 Rev. Franics L. Funk and Rev. James Malley
1948-1950 Rev. Michael Downing and Rev. Walter Bueche
1951-1952 Rev. Michael Downing and Rev. Howard J. Herold
1953 Rev. Michael Downing and Rev. Walter Cavanaugh
1954 Rev. Paul Laicher and Rev. Stanislaus Morawski
1954-1956 Rev. Stephen A. Sullivan
1956-1959 Rev. Edward Beatty
1959-1966 Rev. Joseph J. Waters
1966-1970 Rev. Vincent I. Erb
1970 Rev. John Radaelli, I.M.C.
1970-1974 Rev. J. Calvert Brown, S.J.
1974-1977 Rev. John P. Brown, SJ
1977-1981 Rev. Paul J. Gilvary, SJ
1981-1982 Rev. Samuel R. Pitts, SJ
1982-1990 Rev. William G. Kelly, SJ
1991-1994 Rev. Andrew Novotney, SJ
1994-1999 Rev. Robert D. Wiesenbaugh, SJ
1999-2005 Rev. James McAndrews, SJ
2005-2017 Rev. Vincent Curtin, SJ
2017- Rev. Mark S. Lawlor

— St. Thérèse Church contributed