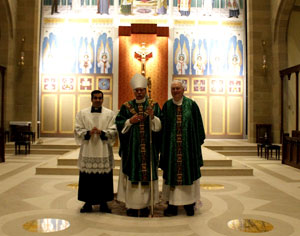 Jonathan TorresCOLUMBUS, Ohio — Seminarian Jonathan Torres was admitted to candidacy for holy orders during Mass Jan. 27 at the Pontifical College Josephinum, celebrated by Bishop Frederick F. Campbell of Columbus.
The Rite of Admission to Candidacy is celebrated when a seminarian, usually in his second year of graduate study, has reached a maturity of purpose in his formation and has demonstrated the necessary qualifications for ordination. In the presence of the bishop, he publicly expresses his intention to complete his preparation for holy orders and his resolve to fully invest himself to that end, so that he will serve Christ and the Church faithfully.
In addition, seminarians Alfonso Gamez and Britt Taylor made their profession of faith and took the oath of fidelity Jan. 25 in preparation for ordination to the transitional diaconate.
In preparation for ordination to the transitional diaconate, seminarians in their third year of graduate study at the Pontifical College Josephinum made the profession of faith and took the oath of fidelity in the presence of Monsignor Christopher J. Schreck, rector, and the seminary community. Candidates for ordination pledge to remain faithful to the teachings of the Church and swear to be faithful teachers of the Gospel.
— Carolyn A. Dinovo. Photos provided by Ken Snow and Peter Stetson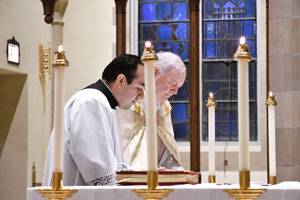 Alfonso Gamez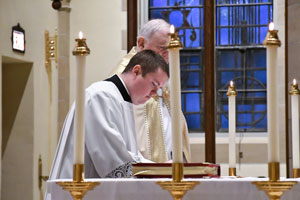 Britt Taylor