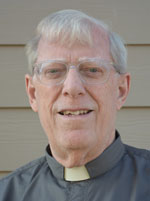 CHARLOTTE — Bishop Peter Jugis announces the appointment of Deacon Clarke E. Cochran to serve St. Peter Church in Charlotte effective Jan. 15.
From Lubbock, Texas, Deacon Cochran and his wife Anne relocated to Indian Trail to be closer to their grandchildren. Deacon Cochran was ordained on Feb. 14, 1981, for the Diocese of Amarillo by Bishop Leroy Matthieson. When the Diocese of Lubbock was established on June 17, 1983, he was incardinated into the Diocese of Lubbock and held several administrative offices including being appointed the first director of the Permanent Diaconate.
Throughout 37 years of diaconate service, he has given of himself in support of social teachings pertaining to religion, politics, health care policy, and Catholic social doctrine. He has been especially involved in homeless ministry, death penalty abolition and other aspects of charity and justice.
At the parish level, Deacon Cochran and his wife were founding members of St. John Neumann Parish in Lubbock, Texas. This was where he was assigned a deacon in 1981 and where he served until moving to North Carolina.
— Deacon John Martino