Editor's note: This story was published Nov. 30, 2015. This year's Advent wreath is up at the church, located at 728 W Union St, Morganton.You should go see it!

MORGANTON — Advent and Christmas are a big deal for parishioners at St. Charles Borromeo Church – a really, really big deal.
At the start of each Advent season, a team of volunteers comes together to build what must be the largest Advent wreath in the diocese, if not the state. This year's wreath is made from the branches of nine Christmas trees and measures about 11 feet in diameter. The enormous evergreen creation is suspended from the ceiling, effectively crowning the nave, and the enormous scale and drama of it wows visitors.
But that's not all.
The parish takes down the Advent wreath just before Christmas and then makes an entirely new wreath for the Christmas season. Decorated with white candles and gold embellishments, the Christmas wreath adorns the church until at least Epiphany.
More than a decoration, the king-sized wreath has come to symbolize the spirit of the Morganton parish, which is comprised of a diverse number of Anglo, Latino, Vietnamese and Hmong families. The wreath requires many hands to complete, says Deacon John Martino, just as a parish community needs everyone's participation to thrive.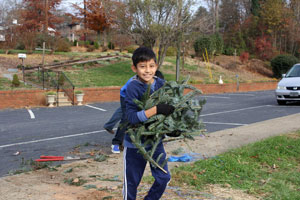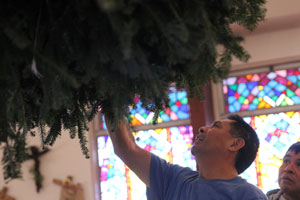 Pictured: Mario Diego and his family were among those who helped to make this year's Advent wreath at St. Charles Borromeo Church.
Paul Watson and Rita Gallagher install the flameless candles and ribbon once the wreath has been constructed. Melvin Castro, 9, helped carry the cut branches into the church. (Photos by Patricia L. Guilfoyle and Margarita Francisco | Catholic News Herald)
"Every year the Advent wreath is different. The frame is always the same frame, but it always takes on the character of the people that put it together," Deacon Martino notes.
And with its fragrant aroma and sturdy shape, the wreath offers a reflection on what it means to be a Christian, he adds. It inspires people to await the birth of Christ with exuberant hope and joy, using all of their senses in worship.
This is the 24th year the parish has built these Advent and Christmas wreaths.
The idea was conceived by Father Ken Whittington not long after he came to the parish in 1992.
"I was taken with this open space," he recalled. It seemed perfectly suited for something immense.
He mentioned the idea to parishioners Mike Koontz and George Waddell, who at first insisted that it couldn't be done. But the more Koontz and Waddell mulled it over, the more they thought it could indeed work.
They fashioned a frame using concentric rings of PVC pipe, then attached the frame to four heavy-gauge steel wires that suspend the wreath about 8 feet over the floor, midway down the interior of the church.
Flameless flickering candles replace real wax candles, for obvious reasons. Purple and rose ribbons finish off the simple design.
Father Whittington says, "I must say that the first year here, it looked very large. People were afraid of it, nobody would sit under it because they thought it would fall! But over the years ... the wreath actually looks smaller – it doesn't look so intimidating, and people are finally able to sit under it and enjoy it.
"In fact, it's sort of a mark of our Advent and Christmas season."
"It's something that's very important to us, something that's a part of who we are," adds Deacon Martino, both in terms of parishioners' sacramental life as well as their service to God and each other.
The wreath moves us all to prayerfully contemplate what church – and Christmas – are all about, he says.
— Patricia L. Guilfoyle, Editor