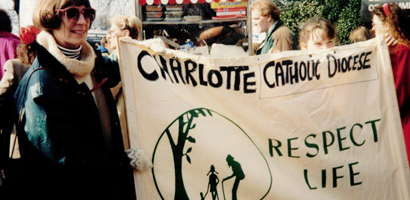 For more than six decades, the charitable work of the Church in western North Carolina has been organized and led by Catholic Social Services. The wide range of assistance that Catholic Social Services offers illustrates the Church's commitment to serving all people in need across the diocese.
Bishop Vincent S. Waters of the Diocese of Raleigh first incorporated the Bureau of Catholic Charities on April 24, 1948. Within a year, a branch was opened in Charlotte.
Following a mid-century trend among some Catholic Charities agencies, Bishop Waters and the corporate board of directors changed the agency's name from the Bureau of Catholic Charities to Catholic Social Services Inc. in 1962.
In 1973, not long after the founding of the Diocese of Charlotte, Bishop Michael J. Begley set up the diocese's own Catholic Social Services agency, and its mission – to serve people in need across the 46 counties of western North Carolina – has continued to be one of the top priorities of every bishop since.
FOUNDING DIRECTOR
Catholic Social Services was originally staffed by three sisters from the Missionary Servants of the Blessed Trinity, an order of Catholic sisters devoted to education, health care and social services. The sisters provided pregnancy support, maternity care, foster care and adoption services to families throughout the state.
Elizabeth Thurbee was the first layperson hired by the Trinitarian sisters in 1980 to head the agency's adoption program. She eventually rose to head the entire agency, retiring in 2010.
Thurbee met the three Trinitarian sisters in 1975, when she was the public information officer for the Mecklenburg County Department of Social Services and they called her for information about Charlotte.
Five years later – out of the blue – Trinitarian Sister Barbara DeMoranville called Thurbee to offer her the agency's new position of adoption supervisor. Thurbee recalls being concerned about being tapped for the job, which would cover the diocese's 46 counties. Her children were still young, and she needed a part-time schedule.
But the sisters were adamant about Thurbee taking the job, and they agreed to a family-friendly work schedule for her so she could say yes.
Thurbee recalls, "I asked Sister Barbara (after accepting the job), 'You were so persistent. Why did you call me, anyway?'" Sister Barbara told her that the Trinitarian Sisters had been praying about someone to take the position and nothing had happened. But the morning Sister Barbara called Thurbee, she said, "I woke up at four o'clock in the morning with your name in my mind. So I knew that was what we were supposed to do."
That was the start of Thurbee's 30 years of service with the diocese. She worked with all four of the diocese's bishops, helping to develop and steer Catholic Social Services to meet growing and changing charitable needs.
Under Thurbee's leadership, programs such as burial assistance, counseling services, elder ministry, family life services, the food pantry, refugee resettlement, and educational programs for the Office of Justice and Peace evolved. The Diocese of Charlotte Housing Corp., specializing in low-income housing for the elderly was also established.
CSS SERVICES
Since its beginning with the three Trinitarian sisters, Catholic Social Services has grown to a staff of more than 60 professionals.
Its physical space has expanded from one office at a Charlotte church to an administrative office in Charlotte – which houses the Charlotte Regional Office, the Justice and Peace Office, the Family Life Office, and the Refugee Resettlement Office – and satellite offices in Asheville, Winston-Salem, Greensboro and Murphy.
The offices offer a wide range of services, acting as the hands of Jesus to people and families in need across the diocese. Free or reduced-cost services to anyone – whether they are Catholic or not – include foster care, adoption and pregnancy services; individual, marriage and family counseling; distribution of food and material assistance; marriage preparation; natural family planning; financial literacy; justice and peace education and advocacy; elder ministry; legal immigration services; refugee resettlement aid; Respect Life education and advocacy; teen parenting help; translation services; and more.
Demonstrating Catholic Social Services' commitment to quality services in all areas, the agency applied for accreditation by the Council on Accreditation, a national accrediting body for human service agencies. The agency received that accreditation in 2007 and was reaccredited in 2011.
A CURRENT SNAPSHOT
During its 2010-'11 fiscal year, Catholic Social Services was called upon to assist more people during difficult financial times. In the Charlotte office alone, more than 109,000 pounds of food were distributed to 1,893 children and 2,544 adults. Counseling services totalling 2,554 hours were provided to 355 individuals, couples and groups. Marriage preparation and Natural Family Planning classes were offered to 502 couples.
The Refugee Resettlement Office assisted 298 refugees and asylum seekers from 14 countries. They also provided 3,473 hours of English language instruction to assist them in resettlement and adaptation to life in America.
Dr. Gerard Carter, who succeeded Thurbee as executive director of Catholic Social Services, sums up the mission of Catholic Social Services in western North Carolina: "As a ministry of the Diocese of Charlotte, Catholic Social Services works closely with our clergy and laity to bring hope and healing to those in need, especially those who are poor and marginalized. Our work centers on three key service areas of ministry – strengthening families, building communities and reducing poverty."
— SueAnn Howell, staff writer. Dr. Gerard Carter, executive director of Catholic Social Services, contributed.
EDITOR'S NOTE: The Diocese of Charlotte was founded on Jan. 12, 1972. To celebrate the 40th anniversary of the diocese and the history of the Church in Western North Carolina, we are publishing a year-long series spotlighting the people who built up the Church, the major developments over the past 40 years, and what changes could be in store for the future.
Online resources
History of the Diocese of Charlotte
Anecdota in the Diocese of Charlotte's history