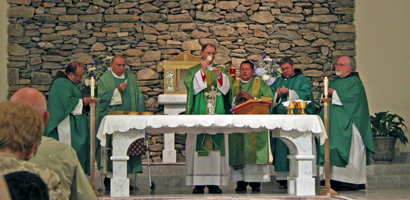 HENDERSONVILLE — Parishioners gathered joyfully and gratefully at Immaculate Conception Church on Aug. 25 to mark the 100th anniversary of the parish and welcome its new pastor, Capuchin Franciscan Father Martin Schratz. It marked the culmination of a yearlong celebration of the vibrant Catholic community in Henderson County.
Bishop Peter J. Jugis celebrated the two-hour bilingual Mass in the church, which was filled with hundreds of local Catholics. It was a very different scene from the first Mass celebrated at the parish on Aug. 25, 1912, when Hendersonville had just 19 Catholics. Since then, the parish has grown to 3,000 Catholics of all different backgrounds – but sharing in the same love for Our Lord and His Church, and excited to make the most of the parish's next 100 years.

Special guests at the Mass and anniversary celebration included Monsignor Joseph Showfety, who served as Immaculate Conception's pastor from 1967 to 1972, when he was selected to become the first chancellor of the newly formed Diocese of Charlotte. Also present was the Capuchin Franciscan community's vicar provincial, Father Ronald Giannone, who traveled down from the provincial house in New Jersey.
Pictured: Immaculate Conception Church in Hendersonville concluded its yearlong centennial celebration Aug. 25 with Mass celebrated by Bishop Peter J. Jugis, who also installed Capuchin Franciscan Father Martin Schratz as pastor. Concelebrants were Monsignor Joseph Showfety, who served as Immaculate Conception's pastor from 1967 to 1972, and the Capuchin Franciscan community's vicar provincial, Father Ronald Giannone. Also pictured are Capuchin Franciscan Father Robert Williams, parochial vicar, and Deacon Carlos Medina from St. Patrick Cathedral in Charlotte. (Photos by Patricia L. Guilfoyle, Catholic News Herald)
The evening celebration kicked off with a foot-stomping performance of traditional Aztec dance by a group of six young parishioners of Mexican heritage. Jolin Islas, Melin Islas, Arlin Carachure, Yuriza Carachure, Gabriel Gutierrez and Lisette Bedolla danced to the beat of a drum down the center aisle to offer a dance before the altar in praise of God.
At the start of Mass, members of the parish's commissions processed in bearing banners depicting their ministries. The Knights of Columbus, which have a proud history in Hendersonville, also participated.
Much of the Mass featured the rite of installation for Father Schratz, who made his profession of faith and took the oath of fidelity – formally taking charge of the faith community comprised of both English-speaking and Spanish-speaking Catholics. He will shepherd the parish, Immaculata School, St. Gerard's House and numerous ministries.
Father Schratz, a Philadelphia native, most recently served as pastor of Our Lady of Consolation Church in Charlotte, a 500-member mostly African-American parish, and before that he was pastor of St. Thomas Aquinas Church, also in Charlotte.
Joining Father Schratz at the parish are Father Robert Williams, OFM Cap., as parochial vicar and Brother Lombardo D'Auria, OFM Cap., as pastoral associate.
In his homily, Bishop Jugis encouraged Father Schratz to look to the Good Shepherd as his model for leading the parish, teaching the faithful and administering the sacraments so that the faithful can become holy and serve the community for decades to come. To be a good shepherd, the bishop explained, means one must really know each member of the flock – the old and the young, the sick and the healthy, the married and the single, the rich and the poor.
"I understand that when Father Peter Marion said the first Mass here a hundred years ago, he only had to know 19 people," Bishop Jugis noted with a smile.
The congregation laughed knowingly, then he continued, "But today you have to know more than 1,500 families, which is quite an increase in number that is placed upon you.
"But as St. Paul tells us God said to him, 'Do not dismay, do not fear, for My grace is sufficient.' And God's grace certainly is sufficient for you."
And, Bishop Jugis added, "You are surrounded by a host of many helpers in the parish to help you, to prepare you as pastor of this wonderful parish."
In his remarks at the end of Mass, Father Schratz thanked everyone for their hard work, and said he was grateful for the warm welcome he and the other clergy have received. The 100th anniversary, he said, marks an opportunity to give thanks for all the blessings that God has bestowed.
The 100th anniversary is exciting, he noted, because it offers a good foundation for the parish's next 100 years.
Parishioner Sherry Glatzer echoed his sentiments, recalling that the parish had warmly welcomed her when she moved to Hendersonville years ago, and everyone's love for the Lord and for each other is evident in all that they do. "I'm so excited. I can't wait to see what the Lord has in store for us in the next 100 years!"
— Patricia Guilfoyle, editor
Important dates in the history of Immaculate Conception Parish
1860 North Carolina has about seven Catholic congregations, about 350 Catholics in the entire state.
1869 St. Lawrence Church (now Basilica) is completed in Asheville, and Hendersonville becomes a mission area for traveling priests including the three Father O'Connell brothers and Father Thomas Price (the "Tarheel Apostle," whose cause for sainthood is now under way).
1870s Mass is begun to be celebrated regularly by the resident priest in Asheville, who is welcomed to the Seventh Avenue home of the Johnston family.
Aug. 24, 1912 Father Peter Marion moves in as the first resident pastor in the newly-built Church of the Immaculate Conception, on land donated by the Johnston family at the corner of Seventh Avenue and Church streets. It is a modest little white clapboard church for a parish of 19 people: three men, eight women and eight children. On Aug. 25, Father Marion offers his first Mass there.
1920 The parish numbers 55 permanent members. During the summer months, visitors to the area fill the tiny church.
July 1924 After Father Marion's death on July 4, 1924, Father James Manley is transferred from St. Lawrence in Asheville to become the new pastor.
1926 Father Manley wants so much to establish a Catholic school that he moves out of the rectory and rents a room in town so that Immaculata School can be established. It is staffed by three nuns from the Religious of Christian Education from Belgium, who teach 10 students (most of whom are not Catholic). "The general public met us with surprise and were a little fearful since they did not know how to approach us, nor how to address us. Often when we walked the streets of the city, children ran after us calling us witches," recalled one the sisters.
1927 Father George Watkins becomes pastor, followed by Father Paul Termer later that year. A large brick home is purchased to house the growing school, and a small cottage named Madonna Hall is built for a rectory, meetings and later for the kindergarten.
1936 A second church that seats 200 is built to replace the original church. Made entirely of stone, it costs $5,000.
1962 Present Immaculata School is completed for 125 students, and the rectory moves back to its original location.
Nov. 29, 1964 First Mass in the English language is celebrated.
1967 Father Showfety (now Monsignor) arrives from Our Lady of the Hills Camp to serve as pastor. He begins repairs to the church and rectory and launches plans for a larger church to suit the parish's 240 families and numerous summer visitors.
1969 A convent is built and later becomes the Friary.
April 1974 A third church, in a modern, chalet style, is built by enlarging the 1936 building, at a cost of $275,000. Madonna Hall is demolished to make room. Bishop Michael J. Begley celebrates the dedication Mass on April 24 along with Father Joseph Showfety, former pastor; Father William Pharr, pastor; Benedictine Father Kieran Neilson of Belmont Abbey; and nine other priests. Father Pharr commissions a local artist, Louis Spegel of Black Mountain, to hand carve the figure of the crucified Christ out of slabs of white oak. Father Pharr also commissions a wooden cross of stained walnut upon which the figure of Christ is hung above the altar – that crucifix hangs above the altar today. The artist also carves a figure of the Madonna, also still in the current church.
1979 A second Madonna Hall (gymnasium and other rooms) is added to Immaculata School.
1991 Capuchin Friars begin their service at Immaculate Conception Parish, which numbers 1,200 families.
Dec. 5, 1998 Present-day church consecrated by Bishop William G. Curlin.
2009-2011 Father Nicholas Mormando, OFM Cap., becomes pastor and under his leadership, a new building is constructed to house St. Gerard's House and the Grotto Pre-School where young children with autism and special needs and their families receive training, support and education.
Aug. 25, 2012 Immaculate Conception Parish marks its 100th year, during Mass celebrated by Bishop Peter J. Jugis, who also installs the new pastor, Father Martin Schratz, OFM Cap.
Pastors of Immaculate Conception Parish
1912-1924 Father Peter Marion
1924-1927 Father James Manley
1927 Father George Watkins
1927-1931 Father Paul Termer
1931-1944 Father Philip O'Mara
1944-1967 Father Howard Lane
1967-1972 Father (now Monsignor) Joseph Showfety
1972-1974 Father (later Monsignor) William Pharr
1974-1979 Father Thomas Walsh
1979-1983 Father Paul Wilderotter
1983-1985 Father Conrad Kimbrough
1985-1986 Father Charles Reese
1986-1991 Father Joseph Kelleher
1991-1995 Father Robert Salamone, OFM Cap.
1995-2009 Father John Aurilia, OFM Cap.
2009-2011 Father Nicholas Mormando, OFM Cap.
2012- Father Martin Schratz, OFM Cap.