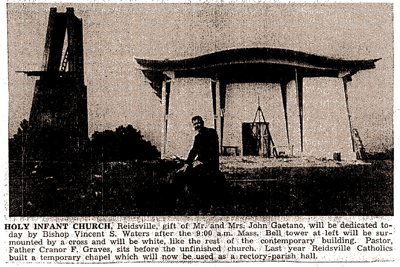 The year 2012 is a special year for many parishes in the Diocese of Charlotte. It marks milestone anniversaries for at least five church dedications and the establishment of at least three parishes. From the diocesan archives, here are photos and newspaper clippings from a few of these special occasions.
More about two of the church dedications' anniversaries can be found on pages 12-13 in this week's edition. Go online to www.catholicnewsherald.com to read more about Reidsville's recent 50th anniversary celebration, which was featured in our July 6 edition.
Coming in the next print edition Aug. 31: more about Immaculate Conception Church's centennial celebration.
And for more historical anecdotes from the diocesan archives, be sure to check out their blog: www.charlottediocese.org/ministries-a-departments/archives.
— Patricia L. Guilfoyle, editor
Church dedications
Immaculate Conception Church in Hendersonville, 1912
Our Lady of Grace Church in Greensboro, 1952
St. John Baptist de la Salle Church in North Wilkesboro, 1952
Holy Infant Church in Reidsville, 1962
Sacred Heart Church in Burnsville, 1962
Parishes established
Sacred Heart Church in Brevard, 1937
Our Lady of Guadalupe Church in Cherokee, 1962
St. Luke Church in Charlotte, 1987