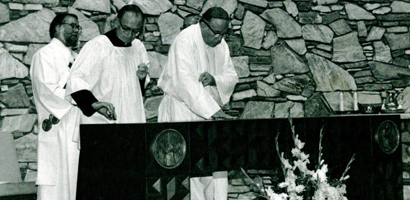 HIGH POINT — Monsignor Joseph Kerin has certainly earned his retirement. Back in 1972, he was one of the first priests of the newly-formed Diocese of Charlotte dispatched by Raleigh Bishop Vincent Waters to serve Catholics in western North Carolina.
Father Kerin, as he was known then, was a native of Scarsdale, N.Y., who moved to North Carolina after finishing college. He discerned a call to the priesthood and approached Bishop Waters, who sent him to seminary in 1957.
He recalls meeting a young priest named Father Michael Begley, who was assigned to an orphanage in Raleigh where his brother lived at the time. The two priests' friendship blossomed and eventually brought Monsignor Kerin to his assignment as second chancellor for the Diocese of Charlotte when his longtime friend became Charlotte's first bishop in 1972.
Monsignor Kerin recently granted Catholic News Herald an interview about his experiences in the diocese and reminisced about his role as chancellor and his relationship with both Bishop Begley and Bishop John Donoghue, who succeeded Bishop Begley in 1984.
"The diocese started back in 1972 and at that time most of us were parish priests," Monsignor Kerin recalled. "Monsignor Showfety was the first chancellor when the diocese was established and after about seven years, he was given a position back in a parish and I was appointed (chancellor) by Bishop Begley in 1979.
"Monsignor (Showfety) had the responsibility of setting up the organization, and it was my job as chancellor to be the executive officer of the diocese (after him) to handle the routine running of the diocese while the bishop was concerned with more spiritual matters.
"It was a tremendous experience because it gave me an overview of the diocese that you don't get as a pastor of an individual parish."
Monsignor Kerin said he found being chancellor was an interesting job and considered his role primarily to help pastors do their jobs.
"It was a most pleasant time for me," he said. "The diocese was growing. We started out as a relatively large diocese (geographically), and I was able to see the continuing development of it."
"In those days we lived with the bishop," he noted, in the bishop's residence in Charlotte. "With Bishop Begley, I would answer the phone as kind of a buffer. But with Bishop Donoghue, he would keep his office door open (in the chancery) and many times answer the phone himself (at home and at the office)."
This kind of "open door" policy created some challenging situations for Monsignor Kerin, he recalls, especially when Bishop Donoghue would allow people to walk in unannounced, sometimes seeking financial donations.
"There was one day when he wanted to give a donation to an order of religious sisters. He walked in the office with one of the sisters and asked me to write the check (right then). I told him not to do that to me anymore – to give me more notice.
"He said, 'A cardinal did that to me for 20 years, so I am going to do that to you!' We had a big laugh over that."
As chancellor, Monsignor Kerin didn't have the staff back then that the chancery and diocese have now.
"I was responsible for the operation of the diocese that included all the finances. In those days we could handle it with just a full-time bookkeeper and me."
As the diocese grew, though, they had to hire more staff to take on those responsibilities. Now, the diocesan Pastoral Center has 115 full-time employees that engage in vocation, education, social services, housing and multicultural ministries.
Monsignor Kerin has many stories about his time serving as chancellor for the diocese's first two bishops.
He remembers meeting then Monsignor Donoghue for the first time when the bishop-elect travelled to the diocese before his ordination as its second bishop.
"It was a little bit of pressure on me meeting a new man (who would be installed as the new bishop). When he came down from Washington, D.C., he came to Charlotte with the retired Cardinal (Patrick) O'Boyle, who was about 90 years old, whom Bishop Donoghue had worked for for many years, and he also lived with him and took care of him in his retirement.
"We met them at the airport. I was driving my car, and I locked the keys in the car. So the retired cardinal of Washington comes down with another bishop and my own (soon to be ordained) bishop. I didn't know him very well yet. He said, 'Keep them talking,' (to the others I was with) so I could call someone at the bishop's residence to have them bring my second set of keys."
He confesses at the time the situation was a bit embarrassing, but after a while he was able to see the humor in it.
"It was an interesting way to meet the new bishop."
Monsignor Kerin remained as chancellor under Bishop John Donoghue until 1986.
"After about two years (serving under Bishop Donoghue), I asked him if I could return to parish life."
Monsignor Kerin went on to pastor and help build St. Matthew Church in south Charlotte, now one of the largest Catholic churches in the country with more than 28,000 parishioners, and St. Mark Church in Huntersville, which is the second largest Catholic church in the diocese.
Monsignor Kerin officially retired as pastor of St. Mark Church in 2003. The parish activity center there is named in his honor.
St. Barnabas Church in Arden was rededicated during his tenure, when about 66,200 Catholics called the Diocese of Charlotte home.
Monsignor Kerin celebrated 55 years of priesthood this year and marvels at how his retirement is the first time in his adult life where he has been without responsibilities.
As a closing thought, he shared an observation he read by a fellow priest who also witnessed the changes in the Church since Vatican II: "'How it's changed: when I was ordained I said Mass and people heard Mass. Then I celebrated Mass and the people participated in it. Now, people celebrate the Mass and I preside.' That tells it quite nicely, I think."
— SueAnn Howell, senior reporter
Chancellors of the Diocese of Charlotte
1972-1979: Monsignor Joseph Showfety
1979-1986: Monsignor Joseph Kerin
1986-1994: Monsignor John McSweeney
1994- Monsignor Mauricio West