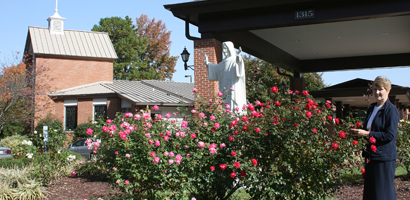 HIGH POINT — Pennybyrn at Maryfield is celebrating 65 years of caring and compassion this week, marking the day in 1947 when the retirement and assisted living community was founded in High Point by five women religious.
On Nov. 14, 1947, five Sisters of the Poor Servants of the Mother of God were sent by their congregation in London, England, to High Point to start a mission at the request of North Carolina Bishop Vincent Waters. The congregation purchased Penny House, originally built by George Penny in 1927, on Greensboro Road in High Point. The sisters lived there and opened a convalescent center with 22 beds. It became known as Maryfield after it was licensed as a nursing home in the 1950s.
Sixty-five years since the first sisters arrived, Maryfield has grown into a 71-acre continuing care retirement community called Pennybyrn at Maryfield. The facilities, which were entirely rebuilt in 2007, include a small neighborhood of 20 independent living cottages, a building of 131 independent living apartments, a building of 24 assisted living and 24 memory support apartments and a newly-renovated nursing care building. The front of the chapel houses Perpetual Eucharistic Adoration, in which 200 volunteers from all across the Triad take turns keeping vigil.
Five Sisters of the Poor Servants of the Mother of God still reside in Penny House, but the nursing home moved to a separate building behind the house in 1965. The community now has a total of 325 residents and 385 staff. The sisters continue in the tradition of their founder, Frances Taylor, who took the name of Mother Magdalen, taking care of their residents with the help and guidance of a board of directors and ambassador council comprised of people from the surrounding area.
Over the years as the needs of the community have grown, the sisters' dedication to caring has evolved into a new, vibrant retirement lifestyle and care for people of all faiths.
The chairman of the board, Sister Lucy Hennessy, SMG, who is originally from Limerick, Ireland, notes that "people of all faiths have helped and are being served here and taken care of here."
Pennybyrn "goes to the heart of our mission helping anyone in need and making life better for others," Sister Lucy said.
"Respect, compassion and care are Pennybyrn's foundation; the sisters who first came to America were on a mission to care for others and to create an environment of true hospitality; welcoming all and helping each person feel at home," said Pennybyrn at Maryfield President and Community Leader Rich Newman.
Sister Lucy noted, "On this the celebration of our 65th anniversary, the sisters look back with deep gratitude to God and to all those who contributed in so many ways to the growth and survival of this great mission. In our hearts we know that this mission has been both handmade and hand held by our loving God."
— Kathy Roach, correspondent. Photos by Kathy Roach and provided by Pennybyrn at Maryfield
Reflection about the 65th anniversary of the founding of Pennybyrn at Maryfield

Looking back on the years since the founding of Pennybyrn at Maryfield, it is worth recording how simple, but yet challenging the first year of this 65-year journey truly was. Due to poor economic conditions in the local area at the time, the Sisters' original plan to open a hospital would not happen. Instead, it was God's plan that the Sisters' refocus their mission to caring for elders.

It all begin in 1947 when a special invitation was extended by Bishop Vincent Waters of the Raleigh Diocese to the leadership team of our congregation, the Poor Servants of the Mother of God in London, England. The invitation was to come and open a mission here in North Carolina. After some discussion among the leaders of the SMG community, it was decided that America indeed was a country in which the SMG spirit and values of our foundress, Magdalen Taylor would grow and develop.

The congregation chose five sisters to bring their mission to High Point. The sisters arrived here on Nov. 14, 1947, and were led by Sister Patrice, a woman of great vision and determination. She faced many challenges, but with faith and trust in God, along with the firm commitment of the other four sisters, she steered ahead. Those four sisters – Sister Anne Christina, Sister Mary Benignus, Sister Assumption and Sister Mary Monica – put their gifts and talents wholeheartly behind the wonderful vision of founding a mission to serve the needs of the sick, the elderly and anyone else who could not help themselves.

Immediately upon the sisters' arrival, they took up residence in the Penny House, which was built in 1927 by George Penny and his wife Lena of Greensboro. Shortly thereafter, in January 1948, the sisters opened the house as a convalescence/rehab home, which became known as Pennybyrn Convalescence Home where care was eventually given to approximately 22 residents. In the early 1950s, it was licensed as a nursing home and from that point on it would be known as Maryfield.

During all these years the sisters faithfully carried out the mission of Maryfield, which is "to demonstrate God's love for those whose lives we touch." They did this by serving the residents with compassion and kindness and all for the greater glory of God.

Once the people of the Triad saw the strong sense of mission and determination that the sisters displayed, they went all out to support them in whatever way they could. Assistance came in the form of moral support, financial support and in many other ways to make their vision possible.

Gradually, the sisters could see that residents coming to them for help were frailer and had greater needs. It became evident that life for these residents would be better served in a building more suited for such care.

In the early part of the 1960s, plans were drawn up for a nursing home and in 1965 residents moved out of the Penny House and into a new nursing home located on property directly behind the Penny House. As various needs arose over the next several decades, the sisters continued expanding their services to meet those needs.

During these periods of expansion, the sisters sought the assistance of many of the area's leaders and it is these individuals and others that have made Pennybyrn at Maryfield what it is today. For example, our Board of Directors and the Ambassador Council was born out of the need for community guidance, support and leadership. Along with the sisters, people of all faiths have served God by giving of themselves and through their financial support.

Another very important group of people that grew with us throughout the decades and who are now a part of the fabric of Pennybyrn at Maryfield is our staff. We are proud of their commitment, and of our tremendous leadership team.

Since those early days, Pennybyrn at Maryfield has since grown into a continuing care retirement community situated on 71 beautiful acres nestled on a cove on City Lake. Currently, more than 325 residents call Pennybyrn at Maryfield home.

On this the celebration of our 65th anniversary, the sisters look back with deep gratitude to God and to all those who contributed in so many ways to the growth and survival of this great mission. In our hearts we know that this mission has been both handmade and hand held by our loving God.

— Sr. Lucy Hennessy, SMG, Mission Leader