Arts & Entertainment
Peggy Bowes: He is Risen! Alleluia! ... Now what?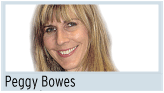 When I was in high school, my devout mother made a huge Easter banner out of colored burlap and felt that read "He is Risen! He is alive! Alleluia!" She hung it on the front porch for everyone to see. I was completely mortified. What if one of the popular kids from school who lived in my neighborhood drove by? They would think my family was a bunch of religious fanatics. (Never mind the fact that I attended a Catholic high school.)
My mother photographed my four sisters and me standing by the banner. Ironically, in the photo I am wearing the same dress I wore for confirmation the previous year. It is obvious from the expression on my face that I just didn't get the fact that confirmation makes me a solider of Christ, that I should be shouting from the rooftops, "He is risen! He is alive! Alleluia!"
Even today, as an adult who professes to be a devout Catholic, I still don't quite "get" the Resurrection, despite studying the Gospels and repeatedly meditating on the First Glorious Mystery of the rosary. I have come to understand and even embrace Lent with its sacrifices and penance. Yet once Easter arrives, I'm not sure what to do – at least spiritually.
In such cases, I always turn to Scripture for guidance. I find comfort in the fact that even the Apostles, who had actually seen the Risen Christ, didn't initially "get" the Resurrection. In fact, Peter, who was instructed by Jesus to spread the gospel throughout the world, actually returns to his old profession and goes fishing! It is not until Pentecost and the arrival of the Holy Spirit that the Apostles truly understood their calling.
Pope Benedict XVI helps shed light on our calling. "In the Epistle to the Colossians, St. Paul says, 'If then you were raised with Christ, seek what is above, where Christ is seated at the right hand of God. Think of what is above, not of what is on earth.'
"It is true that we are citizens of another 'city,' our true home, but the path toward this goal must be traversed every day in this land. To participate, from this moment, in the life of the resurrected Christ, we must live as new men and women in this world, at the heart of this earthly city."
We can never fully understand a heavenly mystery in this life, but I'm starting to see a little light. After a fruitful Lent spent in penance, prayer and almsgiving, we prepare to renew our baptismal promises at Easter, a sign of our new lives. The Holy Father tells us to live as new men and women, and the sacrifices of Lent help us to do this, we hope, in a better way each year. At Easter, our new selves burst forth, a little closer to the image of Christ, a little better prepared to be in the world but not of it. Now where did I put the burlap and felt?
Peggy Bowes is a member of Holy Angels Church in Mount Airy and the author of "The Rosary Workout."
1
2
3
4
5
6
7
8
9
10
11
12
13