Arts & Entertainment
Bishop Michael Burbidge: Reflect seriously, then vote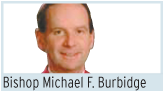 On May 8, voters in North Carolina will have the opportunity to promote traditional marriage in our state through an amendment to the state constitution. Bishop Peter Jugis, Bishop of Charlotte, and I have produced some materials to help you understand our Catholic Church teaching on marriage, to explain what the proposed amendment does and doesn't say and do, to describe how we are to conduct ourselves as Catholics in our discussions about the amendment and to help you understand your role as faithful citizens.
In this commentary, I would like to lay out four doctrinal beliefs about marriage. These beliefs establish the foundation upon which our understanding of and discussions about marriage stand.
We believe marriage was established by God and endowed by God with its own proper nature and laws that predate the state and religion. It is based on what we call "natural law." Natural law is eternal and from God; therefore, it cannot be reformed.
Our second belief is that marriage is a faithful, exclusive and lifelong partnership of life and love that is established for the good of the spouses and the procreation and education of offspring.
This belief is based in divine revelation and therefore cannot be changed. Our Biblical tradition, a source of divine revelation for Catholics, clearly presents this belief.
Our third belief emerges from our second belief. The two ends of marriage, sometimes called the unitive and procreative dimensions of marriage, are inseparable. A husband and a wife express this truth most powerfully in sexual intercourse wherein the complementarity of their bodies allow them to become truly one, not only in body but also in spirit, and creates the possibility of new life.
Finally, Catholics believe that the Church has the authority and obligation to affirm these authentic teachings and to preserve and foster the supremely sacred value of marriage in the society in which it finds itself, including a secular society like the United States.
Bishop Jugis and I encourage you to carefully consider these teachings, based in divine revelation, seriously. The topic of marriage is powerful and emotionally charged precisely because it is such an important institution of society, and in the words of the U.S. Supreme Court, "fundamental to the very existence and survival of the (human) race."
Our beliefs are principled ones, divinely revealed, and to be regarded seriously in any consideration of marriage and family life.
I pray that God may bless and guide you in your reflections upon one of the essential foundations of our society: traditional marriage.
Bishop Michael F. Burbidge leads the Diocese of Raleigh.
1
2
3
4
5
6
7
8
9
10
11
12
13