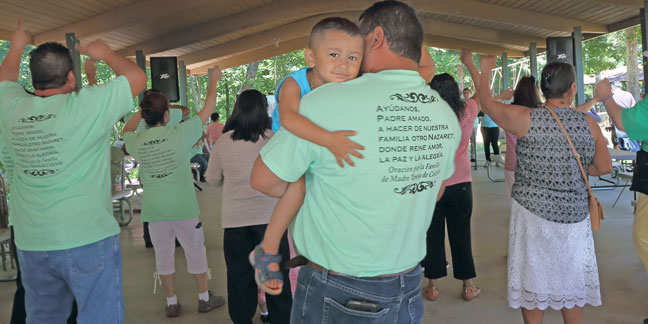 FOREST CITY — More than 150 parishioners of Immaculate Conception Church enjoyed "Semana de la Familia," a week-long celebration of faith and family, July 24-30.
The program consisted of two hours of evening prayers, singing, dancing, lectures and presentations on spiritual and family values. A cultural presentation Friday evening featured representatives of five different Spanish-speaking countries wearing their traditional costumes.
They shared information about their homeland, flag, food, traditions and devotions. A special T-shirt designed for Semana de la Familia featured an image of the Holy Family on the front and family prayer by St. Teresa of Calcutta on the back.
The celebration ended Sunday with Mass offered by Father José Antonio Juya, followed by food, games, singing and dancing at a local park. Children enjoyed face painting and playing on the playground.
Pictured: Adrian Roman enjoys a dance on the shoulder of his grandfather Guillermo Ruiz; Dancers display intertwined scarves at the conclusion of a folk dance; and children enjoy the park playground during the Sunday picnic.
— Photos by Giuliana Polinari Riley | Catholic News Herald