Rector of St. Patrick Cathedral shares message of Fatima May 13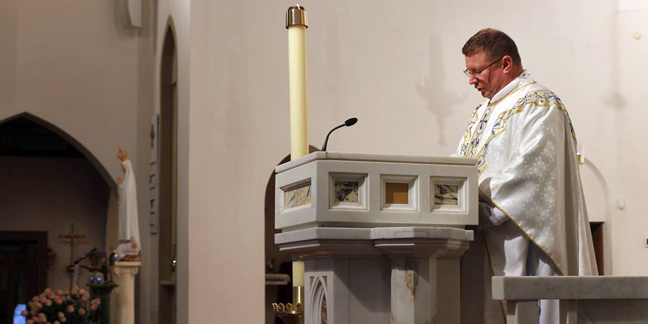 CHARLOTTE — On the 100th anniversary of the first apparition of Our Lady of Fatima, Father Christopher Roux, rector and pastor of St. Patrick Cathedral, shared his personal devotion to the Blessed Mother and her messages given to the three shepherd children over the course of six months in 1917.
"What a beautiful and happy and glorious day this is!" he said at the beginning of his homily at Mass which was celebrated by Bishop Peter Jugis May 13.
"A few years ago on this day, my mother was born," he said. "And 72 years ago today, my father received his first Holy Communion. Fifteen years ago I received a spiritual sister who lives in Fatima. I think you could say somehow I was destined to be a child of Our Lady of Fatima. It's a beautiful thing."
He shared that today marked the 100th anniversary of Our Lady's first apparition at the Cova da Iria in Fatima and that the entire Catholic Church is celebrating the canonization of two of the shepherd children, Francisco and Jacinta Marto.
They are now the two youngest canonized saints who did not suffer martyrdom.
Father Roux pointed out what Our Lady of Fatima asked us to do as children of God: "She has asked us to pray, do penance, be modest and to pray the rosary each day."
He recalled how the first time he ever traveled to Fatima on a pilgrimage it felt like "home."
"I can't explain that, for I had never been to Fatima before," he said. "But I stepped off the bus and immediately I felt as if I was already at home. There is something about Fatima."
Father Roux travels to Fatima each summer with the Te Deum Foundation, which sponsors the annual Mass on the Feast of Our Lady of Fatima. They bring priests, seminarians and laity to experience the peace and silence of the Shrine of Our Lady of Fatima.
"It's not just a destination for tourists," he explained. "It's not just a place you go and see and leave. Not if you are a person of faith. And I would dare say a person that has almost no faith can hardly go to Fatima and not leaved changed, because there is something about Fatima.
"There is something about the message of Fatima that says, 'It's not all about me.' Fatima does not say, 'Here, come and get something.' Fatima says to us, 'Here, come and give something. Give your heart. Give your all to Our Lord and Savior Jesus Christ, mount the cross with Him and offer your lives for someone you may not ever meet until heaven.'"
Father Roux recounted that Our Lady asked the three little children of Fatima if they would suffer whatever would come from God for the conversion of souls and the salvation of sinners.
"She asks you the same question. Are you willing to suffer whatever may come for the salvation of souls and the conversion of sinners?" he asked. "If you do that, she says, you will become holy. Isn't that the essence of the Christian message? Isn't real, true love giving? Isn't it sacrificial?
"Wasn't it shown to us by Our Lord on the cross? The greatest love story ever written was Our Lord's embrace of His cross. He embraced that which would save us. If we don't learn to offer our lives in sacrifice, we can't come to the cross. If we don't offer our lives in sacrifice, we will never learn to love."
Father Roux emphasized that Our Lady comes at Fatima and says not to just offer your lives for yourself, but to think of others who are far from God and to offer sacrifices for them.
"Our Lady's plea was to stop sinning, to stop offending God, and our two saints lived that so beautifully," he said.
It is well documented that Francisco spent hours before the Eucharist consoling Our Lord. Jacinta begged others to stop sinning.
"We need to spend hours before the Blessed Lord in the Eucharist," Father Roux said. "We need to console Our Lord and pray for sinners. Jacinta begged us to stop sinning. They both offered themselves to Christ. Through the hands of Our Blessed Lady, they offered themselves and in doing so became saints."
"If two little children can become saints, so can we," he concluded.
— SueAnn Howell, senior reporter