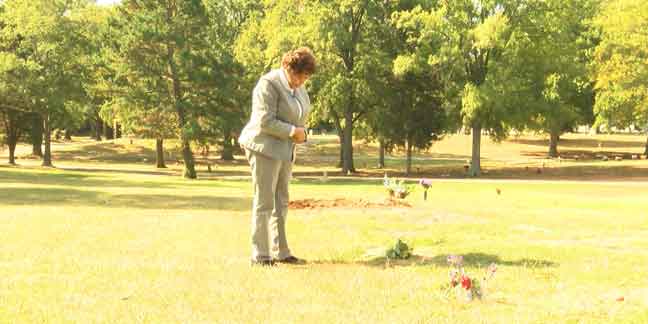 It was a tragic day, a very tragic day. I lost someone who I cared dearly for, who I loved with all my heart."
That is how Joe, a Catholic Charities Diocese of Charlotte client, describes the day his wife Lisa unexpectedly died. Minutes before she was struck and killed by a car, Lisa expressed her love for Joe, and then she headed off to her job in Charlotte. The shock of Lisa's 2014 death was followed by the nearly overwhelming details of what came next: burial.
For many families, the cost of burying a loved one is a substantial financial challenge. The average cost of a funeral in the United States ranged from $7,000 to $10,000 – a major obstacle for many people who are struggling just to make ends meet. The crisis compounds the burden they already face in grieving for their loved one.
Our Catholic faith teaches us that it is an important corporal work of mercy to bury the dead.
Catholic Charities' Burial Assistance Program is a tangible way in which Catholics in Mecklenburg County are helping families of modest means to bury their dead. The program began in 1994, when Mecklenburg County stopped paying to bury the poor. Catholic Charities teamed up with concerned citizens, social workers, funeral home directors and the city's cemetery director to found a burial plan for needy Mecklenburg County residents.
An agreement was made among Catholic Charities, the participating funeral homes and the City Cemetery Department to provide funeral and burial or cremation services to indigent families.
The Burial Assistance program helps families who have no insurance, are unable to negotiate financial arrangements with a funeral home, or, like Joe, do not have the means to pay the costs to bury their loved one. The deceased must have been a resident of Mecklenburg County to be eligible.
In 2016 alone, Catholic Charities helped to bury 101 people: 17 children, 46 and 38 senior citizens. That is an increase over 2015, when 108 people received burial assistance.
Sharon Davis, regional office director of Catholic Charities, says the need keeps growing as families continue to struggle financially.
"So many of the stories of the families are of people who just don't have the means to say goodbye," Davis says. "What families tell us frequently is that they are facing poverty, they barely have the means to live. They don't have money to use when someone has died. Their focus is on how they will live, how they will get their next meal, the roof over their head…"
Davis says families just can't meet the expenses to bury their loved one.
"Those families go through many emotions – worthlessness, helplessness, hopelessness – but when they learn through Catholic Charities that they will be able to have that final goodbye and closure in that final step in life, it brings so much joy and peace to them," Davis explains.
"They feel they have now been able to honor the life of that family member or friend by being able to have a burial or a cremation with dignity. There is no shame that comes. They are able now to say goodbye to the very important person in their life."
By Catholic Charities providing this important service to families in need, she adds, "It means we are honoring our responsibility to the person who has passed away, but also to the living."
Recalls Joe, "I didn't know where to turn. I didn't know what to do. I went to Grier's Funeral Home, and he told me about Catholic Charities.
"The young lady at Catholic Charities was outstanding. She was nice, kind, considerate – like people should be. She didn't treat me like I was a nobody. She treated me like I was a man."
Catholic Charities provides the social service support and eligibility verification for the program at no cost.
Applicants are asked to contribute to the program as much of the cost of the burial as possible. Financial assistance is provided through charitable contributions from individuals, churches and other civic organizations when families are unable to cover the cost.
Catholic Charities' goal is to respond quickly to the needs of the families or individuals seeking burial assistance. They strive to help them within a matter of days, guiding them through the application process, involving trained volunteers who have a heart for this ministry.
"Our volunteers assist them with this part of the service so we don't have people waiting," Davis explains. "It's wonderful to have the support of the community in that way."
Volunteers guide the families through the entire process, working closely with Catholic Charities staff and social workers.
Adds Davis, "It's an exciting thing for us because it takes a very special person to help provide this service. It's a wonderful opportunity for our volunteers to be there for the families at this time in their lives. They are happy to be of service."
Right now the program serves mostly residents of Mecklenburg County, but Catholic Charities would like to see the program expand elsewhere in the diocese. Davis and Catholic Charities representatives recently met with two Catholic parishes and funeral providers in Gaston County who are interested in starting a similar program there.
"It's a growing program," Davis says. "The service is becoming more known in the community, and we are very happy to have an expansion of services to other areas."
Joe still gets emotional when he talks about his love for Lisa and the help he received. He says Catholic Charities helped him grieve better and reassured him that Lisa would be laid to rest with dignity.
"They gave me the feeling of hope that everything was going to be OK, and it was."
— SueAnn Howell, senior reporter
Be an agent of mercy
Catholic Charities needs your help to assist families with limited resources in making arrangements and final plans for a family member. For more information about how you can donate to the Burial Assistance Program, call 704-370-3232 or email Sharon Davis at This email address is being protected from spambots. You need JavaScript enabled to view it.
For more ways you can help Catholic Charities Diocese of Charlotte and share your gifts with the Church, click here.