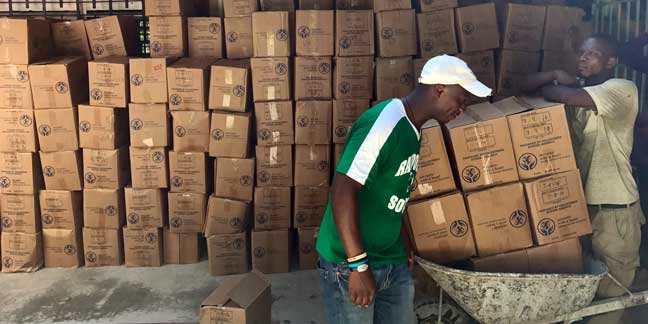 CHARLOTTE — More than 100,000 meals recently packed by members of St. Matthew Church have been shipped to victims of Hurricane Matthew in Haiti.
Approximately 1,400 volunteers came together at St. Matthew Church in Charlotte July 9 to pack 336,312 meals for the hungry, part of the parish's annual World Hunger Drive.
The meal-packing event was a collaboration with the local non-profit Servants With a Heart, which also worked with Elevation Church. The two Charlotte churches packed a total of 1 million meals that weekend, which will be distributed to Haiti as well as to local organizations.
The packaged meals are made up of rice, soy, dehydrated vegetables and a flavoring mix which includes 21 essential vitamins and minerals. The food stores easily, has a shelf life of five years and transports easily. The meals are distributed through feeding programs in the schools and villages of developing countries, and given out quickly in crisis situations.
On Oct. 14, Missionaries of the Poor brothers shipped 108,000 of those meals, along with 3,500 pounds of pinto beans and 2,000 pounds of rice, to a parish near Les Cayes, in southwest Haiti – an area particularly devastated by the Category 4 hurricane that swept through the Caribbean Oct. 4-6. A religious sister at the parish reported that the 400 families there were out of food and in great need of help.
"I was so proud of our parish. You never know what the good Lord has planned for our food," said Mark Creasser of St. Matthew Parish.
— Catholic News Herald