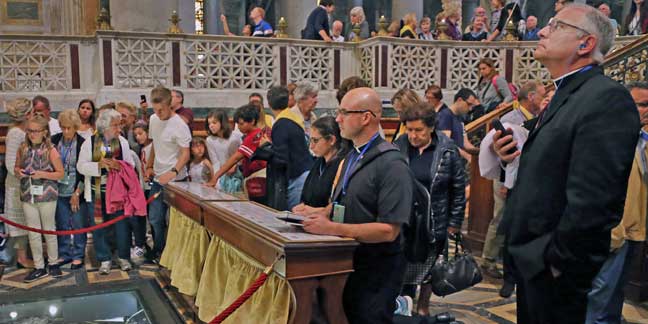 Pilgrims from across the Diocese of Charlotte traveled to Rome, Assisi and Siena in October with Father Michael Kottar, pastor of St. Mary Help of Christians Church in Shelby and Father Carmen Malacari, pastor of Holy Spirit Church in Denver.
Pilgrims had the opportunity to go through several holy doors for the Jubilee Year of Mercy, including the Holy Door at the Papal Basilica of St. Francis in Assisi.
Also pictured (clockwise from top right): pilgrims wait in St. Peter's Square during the weekly audience with Pope Francis; pilgrims pray at St. Maria Goretti's tomb; Father Kottar and Father Malacari celebrate Mass at the tomb of St. Francis in Assisi; pilgrims follow the tradition of touching the feet of a bronze statue of St. Peter in St. Peter's Basilica; pilgrims admire frescos in the Upper Church of St. Francis; and pilgrims pause to pray at the tomb of St. Paul.
—Photos by Giuliana Polinari Riley | Catholic News Herald

Pilgrims in front of Holy Door of Mercy at the Papal Basilica of St Francis, Assisi

Fr Kottar and Fr Carmen celebrate Mass at the tomb of St Francis, Assisi

Polgrims admire frescos in the Upper Church of San Francis in Assisi

Pilgrim praying at St Maria Goretti's tomb_8624

Pilgrims in St Peter's Square during Papal Audience.See Pope Francis on video monitor

Pilgrims traditionally touch St Peter bronze statue in St Peter_ (1)