Amy Goduti: Busy moms are also witnesses for the dignity of human life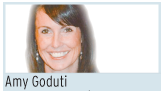 I am very blessed to have parents, in-laws, and many dear friends who are actively involved in defending the sanctity of human life. As the mother of eight children aged 1-16, however, my involvement in the pro-life movement has been limited to sometimes attending the annual March for Life and a tiny bumper sticker on the side of my car – dismal qualifications for being on the front lines of the pro-life movement.
Then one day, God gave me the grace to see my role somewhat differently. I was shopping alone (a rarity) at Costco, dragging one completely full cart of groceries and pushing another. I felt like Moses parting the Red Sea as I moved through the aisles, while people stepped aside with exaggeration while others asked questions about the army I must be feeding. My heart started racing as I mentally tallied the grocery bill, and I was reaching near panic by the time I reached the checkout thinking about the cost and responsibility of feeding a large family.
Suddenly, a young woman in line behind me asked if I ever go to Mass at St. Mark Church in Huntersville. "Yes," I answered, very surprised because we were roughly 30 minutes from Huntersville. "I recognize you," she said. "You have eight children." I was completely dumbfounded. St. Mark has more than 4,000 families, and I did not have any of my children with me.
I am embarrassed to say that I then braced myself for the negative comments about having so many children. Instead, she went on to tell me that she was one of six and her husband one of seven. She spoke about the tremendous blessing it was to be a part of a large family. As we parted ways, she told me to watch EWTN if I was ever feeling overwhelmed.
Wow! Two lessons you do not expect to learn in the checkout line. First of all, don't always assume everyone thinks you are leaving too big a "carbon footprint" with the size of your family. The negative comments definitely sting, but Satan loves to fool you into thinking that everyone thinks you are just plain crazy for having so many children.
Second, and more importantly, I do work the front lines of the pro-life movement every single day – and not just when I have my kids with me.
Big families have an enormous responsibility in a very quiet and yet extremely powerful way: to evangelize the beauty of being open to life. And people are watching.
This is not the first time someone had recognized me as that mother of eight children. Believe it or not, I can no longer count the number of times someone has stopped me. Up until this point, I had cringed and wondered if they recognized me because of the temper tantrum my twins had thrown (in unison) at Target. I hadn't thought of it in a positive light, as an opportunity for witness.
I am now acutely aware of how I present myself as a Catholic mother wherever I go. Am I being kind to the clerk even when they are obviously annoyed by my large order? Am I patient with someone in the parking lot who seems bothered by the amount of time it takes all my little ones to cross the street? Do I look exhausted and frumpy, as if all my children are draining the life out of me, or do I at least try and fake it with a cute pea coat over my spit-up stained shirt?
Every day that I take care of my family, that I make sure they are respectful, kind and well-groomed even if their clothes come from a consignment store, that I attend Mass as a family, or that I simply venture out in public with them, I am witnessing life. Whenever someone comments that I seem to have my act together, I smile graciously but inwardly laugh at the loads of laundry and disorganized closets waiting for me at home.
I am humbled that God has entrusted me with eight beautiful souls, and as only our perfect Heavenly Father works, he has allowed me to be a part of the great battle for the sanctity of human life without ever forsaking my vocation as a mom.
Amy Goduti is the mother of Brigid, Christian, Clare, Grace, Jake, John Patrick, Kathryn and Mary Rose, and the wife of Fred Goduti. They live in Huntersville and are active parishioners in the Diocese of Charlotte.
1
2
3
4
5
6
7
8
9
10
11
12
13
14
15
16
17
18
19
20
21
22
23
24
25
26
27
28
29
30
31
32
33
34
35
36
37
38
39
40
41
42
43
44
45
46
47
48
49
50
51
52
53
54
55
56
57
58
59
60
CatholicNewsHerald
CatholicNewsCLT
Last 3 tweets from CatholicNewsCLT:
Read and listen to homilies posted regularly by pastors at parishes within the Diocese of Charlotte: