The Poor Clares: He will strike at her heel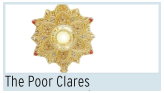 Early in the Book of Genesis, we are presented with a dramatic scene. Adam, Eve and the serpent stand before God, who confronts and judges them on the Original Sin. After rebuking the serpent, God says something to him that sounds strange: "I will put enmity between you and the woman, and between your seed and her seed; he shall bruise your head, and you shall bruise his heel." (Gen 3:15)
It is interesting that the battle is shown to be between the woman and the serpent. Would it not make more sense that the serpent would wage war with Adam, the first man, the symbol of authority and dominion over creation? Was the serpent not merely "picking on" the weakness of woman in approaching Eve first that fateful day in the Garden of Eden?
We find an answer to these questions at the feet of the Blessed Mother, literally. She is often pictured in art with a serpent beneath her feet, holding the apple in his mouth. The serpent – the enemy – knew only too well that his defeat was to come through a woman. Jesus would come to earth as a man to save us from death. But He would not come as an independent king or a triumphant warrior. He would wait on the word of one of His own creatures – the humble, obedient "fiat" of a young Jewish virgin.
Mary's "yes" would set in motion the redemption of all mankind. "And the Word was made flesh and dwelt among us." God entered Mary's womb.
St. Teresa Benedicta of the Cross (Edith Stein) wrote a masterful study in 1931 entitled "The Separate Vocations of Man and Woman According To Nature and Grace." She saw in Genesis the fundamental outline of what God intends men and women to be. Honing in on the challenge between the woman and the serpent, St. Teresa Benedicta of the Cross beautifully came to this answer: "A woman was the gateway through which God found entrance to humankind."
St. Teresa Benedicta of the Cross held the theory that Mary's fiat was the ultimate insult for the serpent. To the serpent, it was degrading enough to his pride to see God take on our mortal flesh, but that He should allow a young woman to be His own Mother was unthinkable.
And so, the battle was begun and has been waged with vengeance in the world to our present day.
When we look at the many ways women have been attacked and misused, we see the efforts of the enemy. Throughout the ages, there have been relentless efforts to destroy the dignity and respect due to women.
The enemy's rage is only intensified by what God has designed women to represent. In women, we see first and foremost, an image of Love. In a much more magnified way than men, women's focus is on being. A woman concentrates not so much on things, on doing, but on others, on loving. As a mother, a woman literally gives of herself for her child, offering her own body for her child's nourishment. And it is to a mother that we often instinctively turn for compassion and comfort.
Because of her natural receptivity and capacity for selflessness, a woman is also by consequence more open to the Divine. A woman's soul is keenly attuned to the spiritual, and she holds a great yearning to love and to be loved. Acceptance of God's love and submission to His Will are deeply fulfilling for a woman.
This is, of course, not to say that men are not called to the same, but that these are more natural actions for women. A woman acts almost as a living conscience for man in this regard. She is a constant reminder to him of the truly important things in life. She has a gift for bringing him ever higher, helping him to control his desires and to steer his goals and plans in the right direction.
As a mother, a woman most intimately works at forming the souls of her children, sharing with them most importantly the reality of God's love and the great beauty of a life of holiness.
How often the silent, persevering love and prayers of a wife or mother have brought back a soul to God and to a life of grace! A woman's love runs deep, and it is not easily re-directed.
The enemy is well aware of the great power and influence that lie in a woman's hands because of this. The line is drawn sharply between all that a woman is and all that Satan is not. His glory lies in pride, in absolute authority, in seeking to conquer. He has rejected love and embraced hate. A woman stands as a reminder of the qualities of God which he rejected before the dawn of time.
When we look at things from this perspective, then we can understand the background of many of the battles in our world today. Our culture is deluged with pornography, abortion, promiscuity, and a false notion of women's sexual freedom which rejects her most beautiful right to her own femininity.
The battle is on, but it is in understanding the gifts God has given us that we will find strength and courage. The serpent will indeed "strike at her heel," but it is the heel of the most blessed of all women – she who will crush him by the power of God, who has won for us the victory.
Sister Marie Thérèse of the Divine Child Jesus is professed with the Poor Clare Nuns of Perpetual Adoration St. Joseph Monastery in Charlotte. Learn more about the local community of Poor Clares and subscribe to their newsletter by going online to www.stjosephmonastery.com.