Deacon James Toner: Let us tell it as it is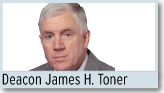 "Does anyone think he is religious?" we are asked in the Letter of James. "If he does not control his tongue, his religion is worthless and he deceives himself." Controlling the tongue means, of course, not taking God's name in vain, not swearing, not lying or bearing false witness, and generally not running people down with our words. (Thank God for the sacrament of confession!)
Controlling one's tongue means more than that, however. It also means we should use words without slanting and shading, without half-truths and twisting – the kind of talk that we see so much in advertising and politics.
George Orwell once said that the first sign of moral and political corruption can be found in the deterioration of language. Those who use words deliberately to deceive, or to hide genuine meaning, are more than mistaken; they are frauds and are not to be trusted. After a while, though, if we continually hear words used deceitfully, we can become accessories to that language and we begin carelessly to use that language ourselves.
There was a time not long ago when seemingly every organization had to have a vision statement or a mission. Even Catholic churches fell in with this, occasionally developing the most majestic statements imaginable. The mission statement of any Catholic church should be both sacred and simple: it is about the salvation of souls, not political, economic, social or ecological concerns. "For what doth it profit a man, if he gain the whole world, and suffer the loss of his own soul?" (Matt 16:20//Mark 8:36//Luke 9:25 DR). The words of a church mission statement should remind us that the spiritual works of mercy must always be companions of the corporal works of mercy (Youth Catechism, 450-451), for we are, first, citizens of Heaven (Phil 3:20).
Even the word "church" may mislead. A democratic spirit is a good thing, but it shouldn't lead to relativism or indifferentism – as in "all churches are the same." Although the Church teaches us that there may be much good in religious bodies outside the Church, and they may be "means of salvation," the sole Church of Christ entrusted to Peter's care is the Catholic Church (see CCC 813-819). We should not think of Christ's Church as a collection of various religious beliefs and bodies. The Catholic Church, in short, is not just another "denomination." It is the whole, the fullness of faith.
So often, we talk about "our" church, and that is fine. It's misleading in the extreme, though, to think of the Church as "ours." It isn't; it's Christ's Church (CCC 84). There are things even the pope cannot do – such as ordain women. We are taught to be careful of civil authority, but as Christians, we remember that Christ taught with the authority He bestowed upon His Church (Matt 7:29). When we seek to change the truths of the Church for things we might find more convenient, we are trying to make His Church ours rather than making ourselves His.
In "Through the Looking Glass," Lewis Carroll has Humpty Dumpty say: "When I use a word, it means just what I choose it to mean – neither more nor less." This is what is happening today with the attempted redefinition of marriage, which some seek to distort into their own ideological preference. We Catholics should always refer to marriage as "holy matrimony." The word "nature" can similarly be abused, but it's harder to warp it when we think of "creation," which implies, as it should, a "Creator." Even the word "compassion" can be twisted. Some regard killing the elderly, the ill, the unborn, or embryonic human beings as "compassionate" or "merciful." As the Swedish diplomat Dag Hammarskjold observed: "Misusing words means despising people."
Blessed John Paul II taught us that "we need now more than ever to have the courage to look truth in the eye and to call things by their proper names" (Gospel of Life, 58). As Catholics, we must speak the truth in love so that we will not "be children, carried by the waves and blown about by every shifting wind of the teaching of deceitful men, who lead others into errors by the tricks they invent" (Ephesians 4:14-15).
Deacon James H. Toner serves at Our Lady of Grace Church in Greensboro.