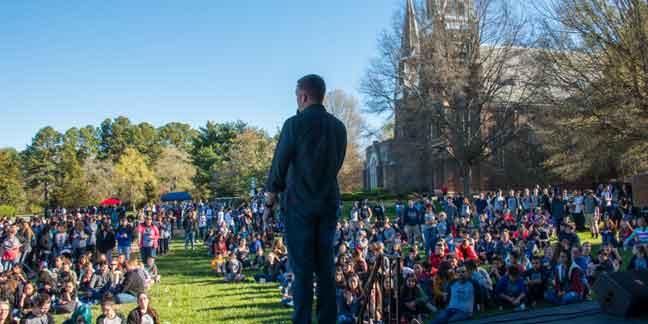 'Mary shows us the way'
BELMONT — "Mary shows us the way… Keep looking towards Him, Don't take your eyes off of Him."
Those were the words of Bishop Peter Jugis to more than 1,000 youth and their chaperones at the 13th annual Bishop's Lenten Youth Pilgrimage April 1 at Belmont Abbey College.
"She is totally for Jesus. There is no 50 percent. There is no 75 percent. She is 100 percent for Jesus. She gives everything to Him. Isn't that what all Catholics should do – be totally for Jesus?" Bishop Jugis said to them during his Holy Hour homily.
His annual youth event, the Bishop's Lenten Youth Pilgrimage – a component of the annual Eucharistic Congress – shares the annual September Eucharistic Congress theme which is based on the words of the Blessed Virgin Mary spoken in the Gospel of Luke 1:46: "My soul proclaims the greatness of the Lord."
Bishop Jugis shared with the youth that the Diocese of Charlotte is celebrating a special "Year of Mary" in honor of the centennial anniversary of the Blessed Virgin Mary appearing to three children in Fatima, Portugal.
He pointed out during his Holy Hour homily that when looking at the Gospels, "Mary is always looking at her Son with great love. Who better than Mary to teach us to give everything to Jesus?" he said.
"She is someone who was totally, completely, with every ounce of her being consecrated to Him. She is a great model and a great one to show us how to do it, how to follow her example.
"We should ask her to help us to have purity of mind and heart, so that our mind and heart are given over completely to Jesus' service. Whether we are at home, at school, or in extracurricular activities, remember that we are totally for Jesus and Mary is showing us how."



















Bishop Jugis said that we should ask Mary to help us and show us how to be more humble, just as she was, and as she is, because she called herself the lowly servant of God.
"Imagine that? The Mother of God calling herself a humble, lowly servant!" he exclaimed.
Youth from more than 45 parishes attended the day-long event. They enjoyed live music from musician and songwriter Kevin Heider, and a vocations fair.
Jimmy Mitchell, a Catholic speaker, composer and musician, served as emcee and speaker for the high school men's track.
Eucharistic Adoration, confession and a Eucharistic Procession around the historic Belmont Abbey College campus were also highlights of the annual pilgrimage.
Juan Diego, an eighth-grader from Holy Family Church in Clemmons, attended the event for the first time.
"I like it a lot," he said. "It's my first time. I think Belmont Abbey is a beautiful church."
Cameron, a ninth-grade parishioner at Sacred Heart Church in Salisbury, shared, "It's a nice experience being at Belmont Abbey campus and being with the monks, priests and other youth our age."
Some middle school and high school youths from St. Helen Mission in Spencer Mountain were waiting patiently in the long line for confession during the day. "We enjoyed Mass," they said.
Chris Beal, diocesan regional faith formation coordinator, helped coordinate the Bishop's Lenten Youth Pilgrimage.
"Every year it has grown and grown," Beal explained. "This year we have over 1,000 people represented. There are about 800 kids, 150 chaperones and 75 college volunteers from Belmont Abbey College.
"One of the best moments for me was seeing a line a mile long for the opportunity to go to confession during this Lenten season," he said. "We had at least 10 priests that spent their day for the most part hearing confessions! We had lines around the corner to hear confessions."
Before the conclusion of his homily, Bishop Jugis reiterated Mary's important role in growing closer to Christ.
"She will show you the path to follow, and it is very simple," he said. "To become more like Jesus she'll show you the way, and that is the rosary. In the rosary, as you are reflecting in the mysteries and the events in the life of Jesus, she is leading you to Him, to grow closer to Him.
"And that is the way she does it. By giving yourself totally to her, she takes you right to Him."
— SueAnn Howell and Rico DeSilva, Catholic News Herald