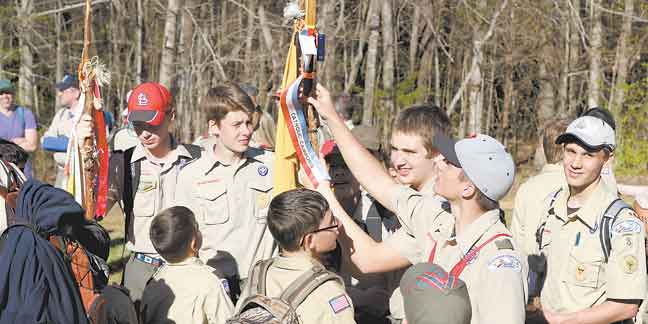 MIDLAND — Nearly 500 young people and adults from 21 parishes attended the Diocese of Charlotte's annual Catholic Camporee March 31-April 2 at Belk Scout Camp – including Boy Scouts, Cub Scouts, Venturers and, for the first time, Girl Scouts and American Heritage Girls.
The camporee's theme was the Year of Mary, in line with the theme Bishop Peter Jugis announced for the diocese this year.
A Mass culminating the three-day camporee was celebrated by Bishop Jugis, assisted by Deacon Martin Ricart, diocesan Scouting chaplain, and Deacon Carlos Medina of St. Patrick Cathedral.
In his homily, Bishop Jugis commended the Scouts for looking to Mary as an example of how to follow Christ and act with love, charity, humility and joy. "We can't go wrong in following her example," he said.
He also encouraged the young people to bring light into others' lives, just as Jesus is the light of the world.
"As Christians living in the light of Christ we are called to be light for others," he said, "to bring that light of love and holiness and grace to others."
The Scout Law – "A Scout is trustworthy, loyal, helpful, friendly, courteous, kind, obedient, cheerful, thrifty, brave, clean and reverent" – describes the "ways that we can exercise in a Christian way, the light of Christ," he said.
After Mass Bishop Jugis recognized dozens of Cub and Boy Scouts who earned their religious emblems over the past year: the Light of Christ, Parvuli Dei, Ad Altare Dei or Pope Pius XII. A record number of five Boy Scouts (Nicolas Martinez, Christopher Day, Zeke Adams, Franklin Burgess and Nathan Russell) received the Pillars of Faith Award for having earned all four Catholic religious emblems. All are members of Troop 958 from St. Leo the Great Church in Winston-Salem.
The Werewolf Patrol of Boy Scout Troop 172 from Our Lady of Consolation Church in Charlotte won the best overall Boy Scout patrol award for a second year in a row.
Cub Scout award winners were: Pack 8 of St. Matthew Church in Charlotte for Best "Year of Mary" Flag and Best Cub Scout Spirit Award; Pack 111 of Our Lady of Grace Church in Greensboro and Pack 12 of St. John Neumann Church in Charlotte tied for Best Campsite; and Pack 111 also won for Best "Mary, Pray For Us" Obstacle Course Participation.
The Mark Thompson Award for the Top Venturing Crew went to Crew 21 of Matthews.
Scoutmaster Mitch Cox of St. Matthew Troop 8 was recognized with the Bronze Pelican Award for his service to Catholic scouting. Adult leaders Richard Conklin from St. Matthew Church and John and Christie Silvestri from St. John Neumann Church were presented the St. George Award, in recognition of their longtime commitment to the spiritual development of youth in Catholic scouting.
"Watching brand new recruits compete and get to know their teammates is humbling," noted Christie Silvestri, Crew Advisor for Venture Crew 12 of St. John Neumann Church. "Watching a scout try their hand at something new and succeed is very rewarding. Seeing the youth combine their faith and the scouting program just seems natural."
— Patricia L. Guilfoyle, editor. Photos by Patricia Guilfoyle, Stephen Guilfoyle, Joanne White and Brian Higgins
More online
At www.cdccos.info: Get information on Catholic Scouting

17546932_1435786003140542_7641239294558118411_o (Copy)