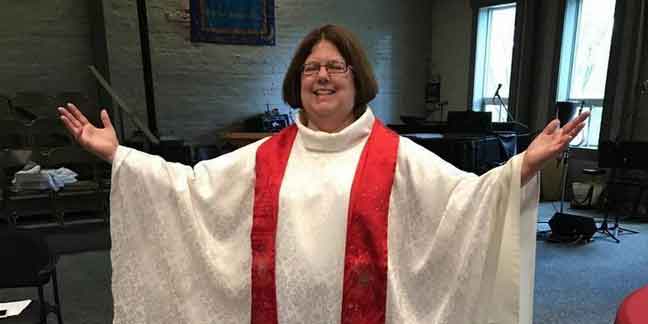 ASHEVILLE — A dissident group recently attempted to ordain a woman as a Catholic priest at a non-denominational church in Asheville.
Abigail Eltzroth went through a simulated ordination ceremony April 30 at Jubilee Community Church that was presided over by Bridget Mary Meehan, who presents herself as a Catholic bishop. The Association of Roman Catholic Women Priests, a Sarasota, Fla.-based group that does not accept Catholic teaching on the priesthood, organized the event.
Eltzroth, 64, reportedly identifies herself as Catholic, having converted from Presbyterianism in her 50s. She told the Charlotte Observer that she intends to start a community in the Asheville area.
"I hope that Catholics in the diocese will understand that it would be sinful to receive a fake sacrament from a woman priest and that includes attending a fake Mass," said David Hains, communication director for the Diocese of Charlotte.
The Church follows the will of Jesus Christ in selecting only men to receive the sacrament of holy orders. Because God chose to become incarnate as a man and He chose 12 men to be His apostles, the Catechism of the Catholic Church states, "The Church recognizes herself to be bound by this choice made by the Lord Himself. For this reason the ordination of women is not possible."
The Church recognizes a priest to be an "alter Christus" ("another Christ") who is called by God and ordained by the Church to act "in persona Christi" ("in the person of Christ") in building up the Church. Because Jesus Christ was a man, those who act "in persona Christi" and are an "alter Christus" must also be men. Only a validly ordained priest can celebrate a valid Mass.
The Church's understanding of ordination is rooted in Scripture as well as the writings of the Church Fathers, who battled heretical groups that also attempted to ordain women early in Church history.
St. John Paul II reiterated Church teaching in 1994, when he declared in his apostolic letter "Ordinatio Sacerdotalis," "The Church has no authority whatsoever to confer priestly ordination on women and that this judgment is to be definitively held by all the Church's faithful."
Attempted ordination of a woman is automatic excommunication for both the person attempting the ordination and the person attempting to be ordained.
The Association of Roman Catholic Women Priests traces itself back to the attempted ordination of seven women on a ship cruising the Danube River in 2002. According to its website, the group has 16 "inclusive" communities in California, Kentucky, Florida, New Hampshire, New York and Ohio.
— Catholic News Herald. CNA/EWTN News contributed.
Photo from the Association of Roman Catholic Women Priests website.