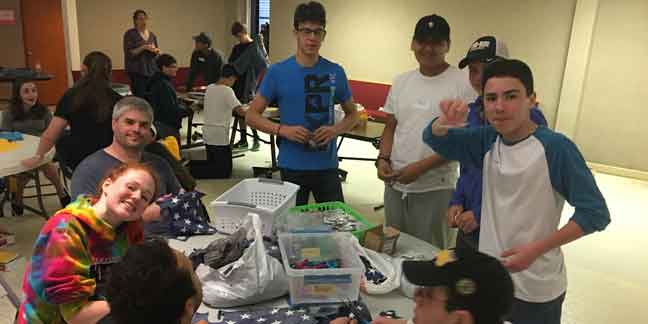 KERNERSVILLE — Before receiving the sacrament of confirmation May 6, confirmation students at Holy Cross Church spent one of their last classes focused on understanding mercy, the Beatitudes, and service to others.
For parishioners at Holy Cross, the students made soup mixes in jars to give to the parish's care office for the sick and homebound. In service to the Kernersville community, the students made birthday bags for Crisis Control that included supplies for a birthday party; they crafted dog chew toys for the local animal shelter; no-sew quilts were put together for the homeless; they pinned dress material to help the local Columbiettes Auxiliary 8509 with their pillowcase dress project; and they helped the local Knights of Columbus Auxiliary 8509 with their Stars for Our Troops project.
They pushed even further to reach others outside of their immediate world by clipping coupons for overseas veteran families and by partnering with an organization called Sole Hope (based in Salisbury) to cut material for children's shoes that will be made and dispersed in Uganda.
— Photo provided by Denys Davis