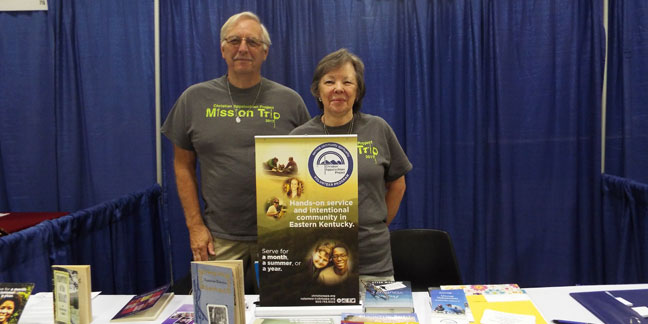 MINT HILL — A chance encounter on a cruise ship steered a Mint Hill couple to a lifetime of serving people in one of the poorest areas of Appalachia.
Debby Lawrence and her husband Jim first learned of the extreme poverty in the Appalachian mountains of eastern Kentucky through their son Chris, who went on a mission trip organized through the Christian Appalachian Project. The trip was supposed to last three weeks.
"Well, he just did not come on back for the whole summer," Debby Lawrence recalls. When their son did finally return, he was excited to talk about the Christian Appalachian Project and share all that he had experienced in eastern Kentucky.
Three years later, the Lawrences were on a cruise and while attending Mass they heard the priest celebrant talk about the people in eastern Kentucky and how they needed help. Debby Lawrence realized that the priest was none other than Monsignor Ralph Beiting, the founder of the Christian Appalachian Project and the person responsible for her son's summer adventure. The Kentucky-born priest, who died in 2012, began helping Appalachian residents fight poverty in 1946, when, as a seminarian, he accompanied several priests on preaching trips to the mountains of eastern Kentucky. The oldest of 11 children who grew up during the Great Depression, Monsignor Beiting was no stranger to need, but the incredible poverty he saw in Appalachia planted the seeds of what eventually became the Christian Appalachian Project.
The Lawrences asked Monsignor Beiting how they could help, and he suggested that they go on a short-term mission trip. They were so touched by that experience that they ended up becoming long-term missionaries with the organization and even moved to eastern Kentucky for two years to serve the elderly residents there.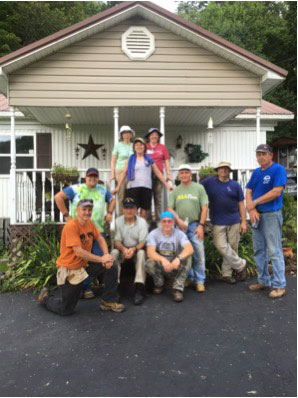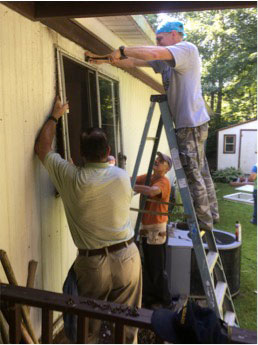 The Lawrences continue to lead mission trips to eastern Kentucky, and since 2011 parishioners from St. Luke Church have gone on summer mission trips with them through the Christian Appalachian Project.
On the parish's most recent mission trip, the Lawrences, Bobby Francis, Bob Hayes, Sandy Coughlin, John Luther and David Esposito completed two construction projects in four days. They built ramps and porches, replaced windows and revamped kitchens for elderly residents in need that had been identified through the Christian Appalachian Project.
"We would have breakfast at seven, pack a lunch and go to our designated project site. We worked on projects and interacted with families until about 4:30. We would get back to the Follie Community Center and have a well-needed dinner. After, we had a group share and devotional. We finally had enough time to clean up the hall and get a decent night's sleep. The next day we would do it all over again," Lawrence describes.
Appalachia's poverty and socioeconomic ills have been well documented, and the six counties in Kentucky served by the Christian Appalachian Project are no different: 13 percent of the population is disabled, 12 percent are unemployed, nearly half are obese, and residents' lifespan is six years less than the average American.
"When driving through the mountains everything looks to be quite normal but within the 'hollers,' people have just about nothing," Lawrence says. "Many are elderly and do not have cars, proper plumbing, or even access to their homes. The trailers most citizens live in are outdated and falling apart. They have found a way to make do generation to generation, but they need help. A lot people are ill, disabled and are completely dependent upon each other."
"Hollers" are the flat lands within the mountain valleys of Appalachia. Each "holler" has a name and a family that has been tied to it for at least a century. At one time, these families were successful coal miners. But as the demand for coal has declined, so has the prosperity of these families. Ironically, some are unable to buy the same coal that once provided them with a living, to heat their homes.
For the Lawrences, this dim reality just means that more help is needed.
"I am not trying to solve problems or determine answers," Lawrence says. "I go to serve individual people that have a need. There are so many, so many that need us.
"These are the most resourceful people I have ever seen. They are great Christians. They love God. Every time we help them they tell us, 'Thank you for coming. I love you.' They really say that, and they really mean it. They are not envious of anyone or anything. These are some of the most amazing people I ever met. I love these people. They are my people. They have stolen my heart."
The Lawrences said they would love to have more parishes embrace the summer mission trips that the Christian Appalachian Project offers. For more information, email Debby Lawrence at This email address is being protected from spambots. You need JavaScript enabled to view it..
— Lisa Geraci, correspondent