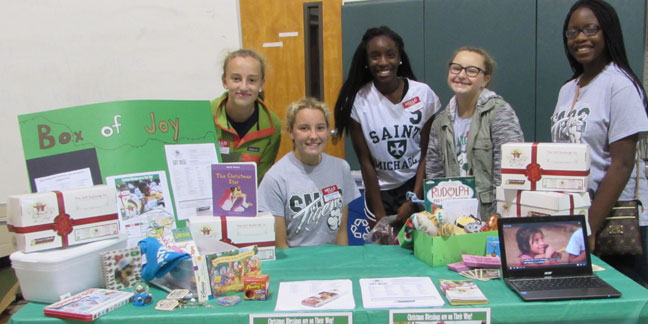 GASTONIA — St. Michael School held a 75th jubilee event to celebrate the school's educational legacy in the community. St. Michael School was established in 1942 through the support of the Sisters of Mercy. When the school first began, the Sisters of Mercy served as teachers and educators.
The jubilee celebration opened with a prayer offered by Father Matthew Buettner, pastor of St. Michael Church, and remarks from Sheila Levesque, the current principal. Joe Puceta, who served as principal for more than 20 years, spoke of the schools family atmosphere and continued growth.
Lauren Andrews and Rileigh Hazen, former students and alumni, spoke of their educational experiences at St. Michael School. Dino Dimeo, a former parent, spoke of the school community and the strong educational foundation that the school provides. Mercy Sister Carolyn Mary Coll, a former teacher, spoke of her experiences and discussed some of the school's rich history.
The campus was open with children's activities and opportunities to visit classrooms. Alumni and guests were given an opportunity to reminisce about past years by viewing school memorabilia and photos from each of the previous decades. The day of fun and fellowship concluded with Mass at St. Michael Church.
– Photos provided by Tammy Eason