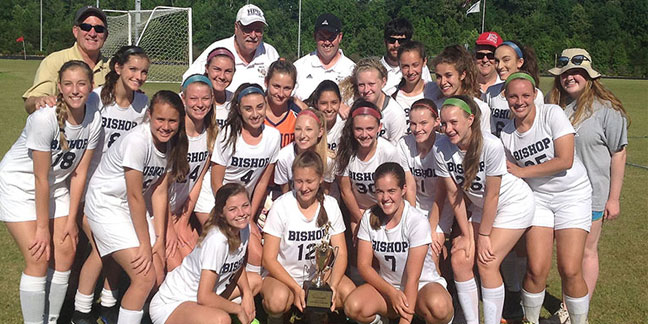 KERNERSVILLE — The Bishop McGuinness High School girls soccer team has again earned the United Soccer Coaches (formerly National Soccer Coaches Association of America) High School Team Academic Award for 2016-'17. The award is given annually to teams for exemplary performance in the classroom.
This is the third consecutive year that the team has earned this national academic award.
The Villains compiled a 3.79 grade-point average last year. To qualify for the award, a team must have a minimum grade-point average of 3.25 for the entire academic year. Thirteen of the 29 team members posted a GPA greater than 4.0 during the 2016-'17 academic year.
This is the second United Soccer Coaches national award received by the Villains from the 2017 spring season. They were previously one of two North Carolina girls soccer teams to be awarded the association's High School Ethics and Sportsmanship Gold Award for 2016-'17. The VillaIns were one of 216 spring girls soccer teams nationally honored with the team academic award, and one of only 10 honored from North Carolina.
The team is coached by Ray Alley, a 38-year member of the United Soccer Coaches/NSCAA. The Villains were Northwest Conference Champions (10-0-0) and 19-3-0 overall last spring.
— Kimberly Knox