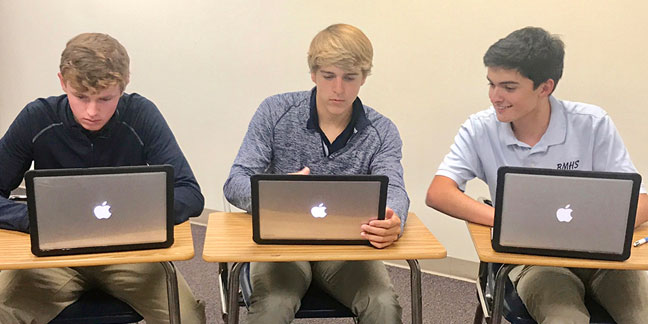 KERNERSVILLE — Bishop McGuinness High School seniors have embarked on a school year long partnership with UBS wealth management representatives John Aderholdt and Mark Aderholdt. Throughout the year the entire senior class is researching, analyzing and developing a portfolio of stocks under the guidance of wealth management professionals from UBS.
Using the Investopedia website, the students are engaging in the portfolio challenge and at the end April the students will be rewarded based on their success managing their portfolio. While the investment funds are fictional, the experience will be real and the students' knowledge of financial markets will be greatly enhanced.
Also, the high school recently launched a one-to-one laptop program – giving every student and faculty member a new MacBook Air. Through this series of high-tech efforts, the school aims to introduce students to the use of hardware and software to solve real world problems.
— Kimberly Knox