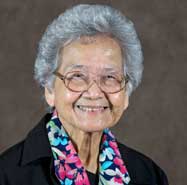 BELMONT — Sister Joseph Marie Perez, a Sister of Mercy for 69 years, died Nov. 6, 2016, at Marian Center, Sacred Heart Convent in Belmont, after an extended illness.
The welcoming ceremony and prayer service will be held at 6 p.m. Wednesday, Nov. 9, 2016, in the Cardinal Gibbons Chapel at Sacred Heart Convent.
The Mass of Christian Burial will be celebrated at 10:30 a.m. Thursday, Nov.10, 2016, in the chapel, followed by interment at Belmont Abbey Cemetery in Belmont.
A native of Agana, Guam, Josefina Perez was born May 15, 1930, the third of nine children of Vicente Borja Perez and his wife Maria Pangelinan. Growing up during the Japanese occupation in World War II, she was profoundly affected by the experiences of suffering, hunger and uncertainty. However, she was grateful for the liberation of Guam and American efforts to rebuild. After the war, she attended public schools in Agana and Sinajana and George Washington High School in Mongmong and recalled the struggle to catch up academically with her peers.
When the Sisters of Mercy came to Guam in 1946, she was attracted to the sisters' way of life. She entered the fledging community with the second group of postulants on Dec. 12, 1947. She received the habit and a new name, Sister Joseph Marie, on Dec. 6, 1948, and professed final vows at the cathedral in Agana on Aug.13, 1956.
Sister Joseph Marie's mentor, Sister Inez Underwood, noticed her ability to learn languages and encouraged her to pursue Latin. She was sent to Mount Mercy College in Pittsburgh, Pa., where she earned a Bachelor of Arts in Latin with minors in education and biology. She later earned a master's degree in educational supervision and administration from the University of Guam.
Sister Joseph Marie ministered as a teacher at the Academy of Our Lady in Agana, St. Anthony School in Tamuning, and at Santa Barbara School in Dededo as a teacher and principal. She also did pastoral ministry at St. Joseph's Parish in Inarajan and worked at the Richard F. Taitano Micronesian Area Research Center at the University of Guam and at Infant of Prague Nursery and Kindergarten in Mangilao.
Sister Joseph Marie was well known for her cooking and baking skills which fulfilled her desire to serve others. She also enjoyed writing poetry, painting, gardening and playing the piano.
She had lived at Marian Center in Belmont since March 2015.
Sister Joseph Marie's life is summed up in her ring motto: "O Crux Dulcis, Adoro Te, Amo' Te" or "O Sweet Cross of Jesus, I adore You, I love You!"
Sister Joseph Marie is survived by her brothers Ignacio and Eddie, her sisters-in-law, Sylvia and Remedio, and numerous cousins, nieces, nephews, grandnieces and grandnephews.
— Catholic News Herald