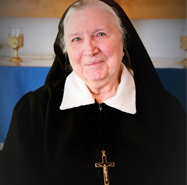 MAGGIE VALLEY — St. Joseph Sister Mary Isabel Carpenter, 98, died on Thursday, June 29, 2017, at Maggie Valley Nursing and Rehabilitation.
A rosary will be recited at 6 p.m. Friday, July 7, and at 9:30 a.m. Saturday, July 8, at St. John the Evangelist Church in Waynesville. A Mass of Christian Burial will be celebrated at 10 a.m. on Saturday, July 8, at St. John the Evangelist Church with Father Larry LoMonaco and Father Richard Benonis concelebrating. Burial will follow at St. John Cemetery.
Sister Mary Isabel was born in Chicago on March 4, 1919, to the late Herbert Jack and Harriet Elizabeth Lake Carpenter. She came to Maggie Valley in 1992, where she was the cofounder of St. Joseph Academy in Maggie Valley, along with Sister Mary Ruth and Sister Mary Celine. She taught kindergarten through third grade until 2008. She was also the music director for the whole school. She was active at the school until 2013.
She served as a Sister of St. Joseph for a remarkable 84 years.
She is survived by her sister-in-law, Josette Carpenter; and numerous nieces and nephews.
In lieu of flowers, please send donations to St. Joseph Academy, 175 Rich Cove Road, Maggie Valley, NC 28751.
— Catholic News Herald