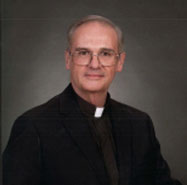 LAKELAND, Fla. — Deacon Kenneth Lee Drummer died unexpectedly on Aug. 2, 2017, in Lakeland, Fla., at the age of 63.
A funeral Mass was celebrated Saturday, Aug. 12, 2017, at St. Joseph's Catholic Church, 210 W. Lemon St. in Lakeland.
He was born on Sept. 1, 1953, in Knoxville, Tenn. He graduated from the University of Kentucky, where he met and married his wife of 40 years, Suzanne. He continued to further his education and attended The Banking School of the South and the Pontifical College Josephinum and was ordained a deacon in the Roman Catholic Church.
He was ordained for the Diocese of Columbus, Ohio, on Feb. 3, 2001, by Bishop James Griffin. From Ohio his work took him to Florida, where he served the Diocese of Orlando in many areas such as faith formation, RCIA, pre-Cana, and the Boy Scouts.
In 2011 his work brought him and his wife Suzanne to North Carolina, where he served five years as a deacon for the Diocese of Charlotte. From 2011 to 2016, he attended and served St. James the Greater Church in Concord. Even though it was for only a short time, his service to St. James Parish will always have a lasting effect. He was recognized by his pastor as a terrific person, spiritual guide and preacher. His participation in the marriage preparation and RCIA programs and his thought-provoking homilies will be missed but not forgotten.
Deacon Drummer is survived by his parents, Richard and Jeanette Drummer of Lexington, Ky.; his wife Suzanne Shaw Drummer of Lakeland; daughter Sarah Drummer Ramey of Orange Park, Fla.; siblings Richard Drummer and Kimberly Kindred of Lexington; and grandchildren, Zachary Marquis and Tucker Ramey.
His daughter and grandchildren will always remember him for the love and devotion he had for them. The kindness and compassion he showed to people of all walks of life is something that all who knew him will cherish.
Donations may be made to St. Joseph's Academy at 310 Frank Lloyd Wright Way, Lakeland, FL 33803.
Condolences may be sent to the family at www.heathfuneralchapel.com.
Heath Funeral Chapel of Lakeland was in charge of the arrangements.
— Catholic News Herald