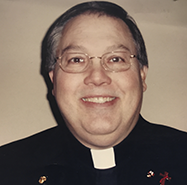 FOREST, Va. — Deacon Frederick Carlos Scarletto, 66, of Forest, Va., died on Monday, Oct. 9, 2017.
The family will receive visitors on Friday, Oct. 13, 2017, at 5:30 p.m. at St. Thomas More Church in Lynchburg, Va., with a funeral Mass to follow at 7 p.m. celebrated by Monsignor Michael D. McCarron. A reception will follow in More Hall. Inurnment will be held Saturday, Oct. 14, 2017, at 2 p.m. in the Columbarium at St. Thomas More Church.
He was born on Feb. 14, 1951, in Canton, Ohio, a son of Fred Michael and Mary Rose Marletto Scarletto.
He was the husband of Anne Therese Dubs Scarletto for 45 years.
He was proud to serve his country as a U.S. Marine during the Vietnam War. "Deacon Fred" faithfully served as business/facilities manager at St. Thomas More Church.
He was ordained for the Diocese of Youngstown, Ohio on Nov. 18, 1995, by Bishop Benedict Charles Franzetta.
He also served as a deacon in the Diocese of Albany, N.Y. and the Diocese of Charlotte. He also had the distinction of being a 4th Degree in the Knights of Columbus.
After ordination he began his diaconate ministry at St. Mary's Immaculate Conception Parish in Canton, Ohio, and served as adult education coordinator for five years. While in Canton he also served at Our Lady of Peace Parish for a year before he and his family moved to Schenectady, N.Y.
After receiving faculties in the Diocese of Albany, N.Y., he continued serving in youth ministry. He was appointed director of youth ministry for a cluster of parishes in Schenectady. During the next three years, Deacon Scarletto directed catechesis and youth ministry for approximately 350 students in grades 6 to 12.
In 2003 the Scarletto family moved to High Point, where he was assigned to serve at Immaculate Heart of Mary Parish. He served in High Point for six years until leaving the Charlotte diocese in 2009.
Most of his 22 years of ordained ministry was involved with faith formation, from the very young to adults. It was in the formation of others that "Deacon Fred" found his call and planted the seeds of faith in many he touched.
Besides his wife, he is survived by his daughter, Edith Scarletto of Bowling Green, Ohio; son, David J. Scarletto and wife, Nikea of Wilmington, N.C.; brother, David W. Scarletto of Canton, Ohio; grandchildren, Evelyn, Katherine and Isabelle Scarletto-Scholl, and Miabella Scarletto; and many close friends.
In lieu of flowers, the family requests contributions be made to a Main Chalice and a vintage Monstrance, both implements of the Order of Deacon, to be used during church rituals. To donate, place "Deacon" in the memo portion of the check made out to St. Thomas More Catholic Church, 3015 Roundelay Road, Lynchburg, VA 24502.
Donations may also be made to the Wounded Warriors Project or the American Heart Association.
Tharp Funeral Home & Crematory of Lynchburg was in charge of the arrangements.
— Catholic News Herald