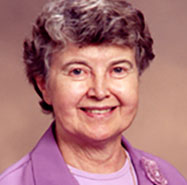 SCRANTON, Pa. — Sister Jane Meehan (formerly known as Sister Annmarie) of the Sisters, Servants of the Immaculate Heart of Mary died Feb. 4, 2018, at Our Lady of Peace Residence in Scranton.
The Mass of Christian Burial was celebrated Feb. 10, 2018, at Our Lady of Peace Residence. Interment followed at St. Catherine's Cemetery in Moscow, Pa.
Sister Jane was born on Feb. 12, 1928, in New Albany, Pa., the daughter of the late James and Annabelle Healey Meehan. She entered the IHM Congregation on Sept. 8, 1948, and made her temporary profession of vows on May 9, 1951, and her final profession of vows on Aug. 2, 1954.
She earned a Bachelor of Science in education and a Master of Science in counselor/secondary education from Marywood College.
Sister Jane served as a teacher in the following schools: St. John the Evangelist Elementary School in Binghamton, N.Y., from 1951 to 1953; Our Lady of Grace Elementary School in Greensboro, from 1953 to 1955; St. Thomas Aquinas Elementary School in Archbald, Pa., from 1955 to 1957; St. Agnes Elementary School in Baltimore, Md., from 1957 to 1963; St. Ephrem Elementary School in Brooklyn, N.Y., from 1963 to 1968; and Our Lady Queen of Martyrs Elementary School in Forest Hills, N.Y., from 1968 to 1974.
She served as a guidance counselor at the following schools: Maria Regina Diocesan High School in Uniondale, N.Y., from 1974 to 1980; Bishop Neumann High School in Williamsport, Pa., from 1980 to 1985; Bishop Hannon High School in Scranton from 1985 to 1987; St. Mary's High School in Manhasset, N.Y., from 1987 to 1996; and Seton Catholic High School in Pittston, Pa., from 1996 to 1997.
Sister Jane then served as minister to homebound parishioners at St. John the Evangelist Parish in Pittsburgh from 1997 to 2004; pastoral visitor at the Marian Convent in Scranton from 2004 to 2006; pastoral visitor at Our Lady of Peace Residence in Scranton from 2006 to 2011; and as a member of the support service staff at the IHM Center in Scranton from 2011 to 2017.
From 2017 until her death, Sister Jane was a prayer minister at Our Lady of Peace Residence in Scranton.
She was preceded in death by two brothers, James Jr. and Francis; and two sisters, Mary Jackson and Kathleen.
She is survived by two sisters, Alice Rice of Massapequa, N.Y.; and Annabelle Kravetz of Mildred, Pa.; and by the members of the IHM Congregation.
Memorial contributions may be made to support the retired IHM Sisters c/o the IHM Sisters Retirement Fund, IHM Center, 2300 Adams Ave., Scranton, PA 18509.
— Catholic News Herald