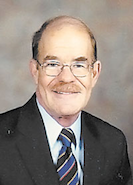 KERNERSVILLE — George L. Repass, principal of Bishop McGuinness High School in Kernersville, passed away peacefully in his sleep Nov. 8, 2015. He was 69.
A Mass of Christian Burial was celebrated Nov. 19 at St. Pius X Church in Greensboro with Father Brian Cook officiating. Bishop McGuinness High School was also closed Thursday to "honor the memory of Mr. Repass." A vigil service, including a student-led rosary, was also held Nov. 18.
Repass's unexpected death was announced by diocesan and school officials Nov. 9.
"It is with deep regret that we inform you of the sudden death of Mr. Repass. His untimely passing is of deep shock to the entire school community but our faith is a source of comfort for us at this difficult time," said Katie Williams, director of advancement for the high school. "We ask for your prayers for Mr. Repass and his family and the entire school community. We will help each other through this difficult time using our faith to give us strength."
Clergy from the diocese and counselors from other Catholic schools and Catholic Charities Diocese of Charlotte responded quickly to assist students and faculty in their time of grief.
Diane Bullard, director of Catholic Charities' Piedmont Triad Office in Winston-Salem, said she was impressed with how the counselors from nearby Catholic schools offered support.
"The Catholic community really came together to support these kids and teachers at Bishop McGuinness during this time of tragedy. It's a testimony for Catholic school education and how the faith plays such a strong role in healing," she said.
On Nov. 11, the high school community came together to remember their beloved principal, who had led Bishop McGuinness for 25 years. The two-hour memorial service was organized and led by students, said Assistant Principal Tracy Shaw.
"We gathered together in prayer and song, and hugged and cried and remembered Mr. Repass," Shaw said.
The students signed a banner with messages for their late principal, prayed, painted the school spirit rock and put flowers, candles and luminaries around the rock.
"On Monday when the students gathered back at school after learning that their principal had passed away, they felt the need that they had to do something. A group of seniors took it upon themselves to put together a prayer vigil," Shaw said.
"They organized the whole thing. It was so impressive. George Repass, we know, is very proud of all of them for what they did."
Students sang Repass's favorite hymns, including "Lift High the Cross," and ended the vigil with the prayer that Repass used to say at the end of each school day: "Lord, you have given us the day trusting that we will respond to Your will for our lives. Your name is praised from sunrise to sunset because of Your loving providence and constant care. As we thank You, we ask that You make us worthy of the promises of Christ. Amen."
The students had prayer cards made with Repass's picture on one side and this prayer on the other, Shaw said.
"I am beyond amazed at the students and how they are handling the situation," she said. "They are lifting each other up and all of us up, really, including the adults in the building.
110915-Repass-George-2"We've all known him longer than the students have known him. Some of the teachers here have known him since the day he started. It's tough on the teachers, and it's really lifting their spirits, too."
Shaw said she also personally feels the loss of the school's leader.
"He hired me and has been my mentor. I have learned more from that man than from any schooling I ever had. I miss his laugh. I miss him popping in my office and talking about the silly stuff as well as the significant.
"Catholic education was a top priority for him. It was his whole life."
Repass was born Nov. 27, 1945, in Bluefield, W.Va., to the late George Wiley and Mary Katherine Repass.
He graduated from Cathedral High School in Indianapolis, Ind., and the Catholic University of America in Washington, D.C., where he majored in American history.
He dedicated his entire life to Catholic education, serving as an educator and administrator in the Archdiocese of Baltimore and for the past 25 years as principal at Bishop McGuinness High School.
He had a love for history, art, the classics and sacred music, but nothing could eclipse his love for Christ and his students before all else. He was a member of St. Leo the Great Church in Winston-Salem and sang faithfully in the choir for many years.
Since Repass's death, people have been expressing their grief and paying tribute to him.
"What a gentleman he was. There is no doubt that he will be missed and remembered fondly for years to come. Our children were lucky to have had him in their lives. Rest in Peace, sweet Mr. Repass," wrote Ashley Toups Raborn on the high school's Facebook page.
Kurt Telford, principal of Charlotte Catholic High School, noted, "I am still in shock about the news of Mr. Repass's death. George was one of the first persons to welcome me to the diocese when I was appointed principal at Our Lady Of Grace (School). When I came to Charlotte Catholic he again offered congratulations. In the almost 18 months that I have been at Catholic, there are many times when I have sought George's knowledge and expertise on a variety of issues. He was always on point."
"The Diocese of Charlotte has lost a champion for Catholic education," he said.
In addition to his parents, Repass was preceded in death by his nephew, Matthew George Repass. He is survived by his brother Robert Tom Repass and his wife Dannielle, and nieces and nephews, Andrew Repass, Charisse Repass and Christin Repass.
Burial will take place privately at a later time.
Hanes Lineberry North Elm Chapel is in charge of arrangements. Online condolences may be made to www.haneslineberryfuneralhomes.com.