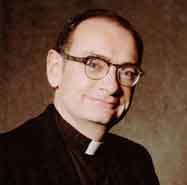 HIGH POINT — Monsignor Joseph Aloysius Kerin, the second chancellor of the Diocese of Charlotte and the founding pastor of the diocese's two largest parishes, died Monday, April 14, 2014, at Pennybyrn at Maryfield in High Point. He was 82.
The Solemn Mass of Christian Burial was celebrated on April 22, 2014, at St. Mark Church by Bishop Peter J. Jugis and concelebrated by nearly two dozen priests of the diocese, including many priests Monsignor Kerin had served alongside or had mentored through the years. Interment followed at Belmont Abbey Cemetery in Belmont.
Monsignor Kerin served as chancellor from 1979 to 1986 under the leadership of Bishops Michael J. Begley and John F. Donoghue, but his legacy of priestly service, first in the Diocese of Raleigh and then in the Diocese of Charlotte, spanned 57 years. He was the founding pastor of two of the largest parishes in the diocese – St. Matthew Church in south Charlotte and St. Mark Church in Huntersville – and he served as a teacher and Catholic school principal, Presbyteral Council member, and director of the Hispanic Catholic Center, among many other responsibilities.
OBEDIENT FAITH
041414-msgr-kerinMonsignor Kerin was born Nov. 15, 1931, in Mount Vernon, N.Y., to the late Thomas F. and Helen Gertrude Murnane Kerin and he grew up in a faithful Catholic family of nine children.
He gave thoughtful prayer to becoming a priest in his youth and after discerning he was called to go to college and not seminary, he attended Niagara University in Niagara Falls, N.Y., where he earned a bachelor's degree in business administration in 1953.
"By the time I got to college, I was confident I had really considered a vocation and that I didn't have it," Monsignor Kerin said in a 2012 interview with the Catholic News Herald. "I was confident God wasn't calling me. But after I graduated, during that summer, the thought came to me: 'You are running from something.'"
His sister was a Dominican nun working at a school in Raleigh at that time, so he applied to work that summer in the Home Missions set up by Raleigh Bishop Vincent S. Waters, before he planned to enter law school that fall. But he never got to law school. Instead, he answered God's call to the priesthood, and Bishop Waters sent him to The Catholic University of America in Washington, D.C., to study theology.
He was ordained to the priesthood by Bishop Waters on May 30, 1957. As was the custom at that time, Bishop Waters assigned him to the Missionary Fathers Apostolate as an assistant at St. John Baptist de la Salle Parish in North Wilkesboro, from 1957 to 1958. He spent the summer of 1958 with the apostolate's "trailer chapels," which served Catholics in rural areas of North Carolina where there were no Catholic churches.
From 1958 to 1960, he served as a teacher and counselor at Notre Dame High School in Greensboro, and then from 1960 to 1966 he served simultaneously as pastor of St. John the Baptist Church in Tryon and as administrator and principal of Asheville Catholic High School. In his 2012 interview with the Catholic News Herald, Monsignor Kerin recalled that he "thoroughly enjoyed" working in the schools.
He became pastor of Our Lady of the Assumption Church in Charlotte and volunteered to join the Charlotte diocese when it was created in 1972.
Then, Charlotte Bishop Michael Begley sent him to Mexico City for two years to serve at a mission jointly operated by the Raleigh and Charlotte dioceses. It proved to be an invaluable experience for the non-Spanish-speaking priest, he recalled.
"It was another new experience that really was a great help to me," he said. "It was a growing experience being thrown into a totally different culture."
BUILDING UP THE CHURCH
Upon his return in 1975, he served briefly as administrator of St. Gabriel Church in Charlotte, then he became pastor of Our Lady of Mercy Church in Winston-Salem and vicar of the Winston-Salem Vicariate. In 1977 he returned to Charlotte as rector of St. Patrick Cathedral.
Starting in 1977 he also served as director of the Centro Católico Hispano (Hispanic Catholic Center) in Charlotte, where he helped lead efforts to serve the growing Hispanic Catholic community over the next decade.
He also served as state chaplain of the Knights of Columbus from 1977 to 1979.
In 1979 Bishop Begley asked him to succeed Monsignor Joseph Showfety as the second chancellor of the diocese, where he was responsible for the diocese's day-to-day operation.
He greatly enjoyed being a "pastor to the pastors" for seven years, he recalled. Those associated with the diocese at its beginning use words like "exciting" and "awesome" to describe what life was like. There was a pioneering sense of starting something new. The diocese was also small enough for most priests to know one another, and the diocese's administration consisted of the bishop, his secretary, the chancellor and his secretary and one bookkeeper.
In his 2012 interview, Monsignor Kerin described the atmosphere as friendly and informal.
"There was a sense of a North Carolina spirit of the Church. The lay people and the priests had a sense that they were missioners," he said.
He found being chancellor was an interesting job and considered his role primarily to help pastors do their jobs, he said.
"It was a most pleasant time for me. The diocese was growing. We started out as a relatively large diocese (geographically), and I was able to see the continuing development of it."
In addition, after Pope Paul VI approved the U.S. bishops' request to revive the permanent diaconate in 1968, Monsignor Kerin chaired the diocese's planning committee to study the potential for a Permanent Diaconate Program here. That effort bore fruit in 1983, with the ordination of the diocese's first deacons.
ST. MATTHEW AND ST. MARK PARISHES
110712-msgr-kerin-feature Monsignor Joseph Kerin and Bishop John F. Donoghue shortly after land for a new St. Matthew Parish was purchased in what was then a sparsely populated part of Mecklenburg County in the 1980s. (Diocese of Charlotte Archives)After Monsignor Kerin expressed a desire to return to parish ministry in 1986, Bishop Donoghue named him the first pastor of the newly established St. Matthew Parish in south Charlotte. The parish is now the largest in the diocese and one of the largest in the country with more than 28,000 parishioners.
In 1996 he was granted a request for a sabbatical to attend the Vatican II Institute in Menlo Park, Calif. Shortly after his return to the diocese, Bishop William G. Curlin named him pastor of the newly formed St. Mark Parish in Huntersville. It has grown to become the second largest parish in the diocese. Monsignor Kerin served St. Mark Parish until his retirement in 2003.
Both St. Matthew and St. Mark named their parish centers in his honor.
Blessed John Paul II named him a Prelate of Honor in 1988.
"I feel I have been blessed with a very rich experience in this life," Monsignor Kerin said in his 2012 interview. "I loved getting into things that were new. That was always exciting. Coming down here has been a great blessing."
Monsignor Kerin is predeceased by his eight siblings: Dominican Sister Gertrude Mary Kerin, Dominican Sister Thomas Mary, Thomas F. Kerin Jr., Marian Kerin, Theresa Kerin, Evelyn J. Kerin, Lorraine Kerin Hoyt and James Kerin.
Harry & Bryant Co. was in charge of the arrangements.
FUNERAL MASS
During his eulogy at the funeral Mass for Monsignor Kerin on April 22, Monsignor McSweeney explained, "All of us have significant titles, sacred titles," and one of the most significant titles we hold is being a child of God.
"The whole story about the life of the child of God is in the dash (on one's tombstone)," he continued, speaking about the years one lives between birth and death.
"Joe Kerin had more titles than anyone could have outside the title of bishop," he said, noting the many significant and sacred titles Monsignor Kerin held such as son, priest, missionary, pastor, shepherd, teacher, counselor and school principal – in addition to the diocesan titles later in his priesthood.
"Joe Kerin was a man of the people, a man of prayer. He was truly a child of God, truly a man of God who dedicated himself to building up the kingdom of God, and truly a man of faith."