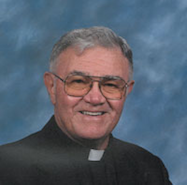 Father L. Eugene "Gene" SchellbergMATTHEWS — Father L. Eugene "Gene" Schellberg, 84, of Matthews, passed away Thursday, Nov. 6, 2014, at Novant Matthews Medical Center.
A Mass of Christian Burial will be celebrated at 11 a.m. Monday, Nov. 10, 2014, at St. Matthew Church, officiated by Monsignor John J. McSweeney, pastor. Visitation will be from 10 to 11 a.m. at the church prior to the Mass. Interment will follow at Belmont Abbey cemetery at 2 p.m.
Father Schellberg was born June 8, 1930, in Toms River, N.J., the son of the late L. Eugene Schellberg and Aida Gregorio Schellberg. After graduating from Toms River High School, he attended both St. Francis Seminary, Staten Island, and St. Anthony Seminary in Rensselaer, N.Y. He was ordained a Franciscan priest in May 1960.
He served in parishes in Albany, N.Y., Montreal, Quebec and Riverside, N.J.
In 1974, he successfully petitioned to transition from the Franciscan order to serve as a priest for the Diocese of Trenton, N.J.
After a number of diocesan assignments, he was named pastor of Mary, Mother of God Church in Hillsborough, N.J., in 1980. There over the next decade he led two capital campaigns to build a larger church and new rectory, and upon his departure the parish hall was renamed Schellberg Hall in his honor.
110714-fr-schellberg2In 1992, he was transferred to St. Bernadette Church in Parlin, N.J. While there he was instrumental in capital projects to refurbish the church, build new offices and a new recreational center.
Upon the 40th anniversary of his priesthood in 2000, he retired and moved to Charlotte, where he became active serving the Church here as a senior priest in residence. He also served as the chaplain of the St. Matthew Knights of Columbus Council 10852.
In June 2010, Father Schellberg was congratulated on his 50th anniversary as a priest and his 80th birthday with a special Mass and reception at St. Matthew Church. Monsignor McSweeney credited Father Schellberg's contributions to the spiritual growth of the parish, including hearing confessions, visiting the sick, serving the needs of senior citizens, serving as chaplain to the local Knights council, and presenting talks with the "St. Matthew University" faith formation programs.
Besides his parents, Father Schellberg was preceded in death by his two younger brothers, Gregory and Peter. He leaves behind two sisters-in-law, Norma and Virginia Schellberg, as well as many nieces and nephews, great-nieces and nephews and great-great-nieces and nephews. In addition, he leaves behind his longtime friend and caregiver, Cosima Smith.
In lieu of flowers, memorials can be made to St. Matthew Church Priest Retirement Fund.
Heritage Funeral Home, Weddington Chapel is in charge of the arrangements.
— Catholic News Herald