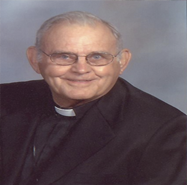 Deacon John Noel ParrishMINT HILL — Deacon John Noel Parrish, 77, formerly of Cresson, Pa., went to be with the Lord on Saturday, June 6, 2015, at his home in Mint Hill.
The Mass of Christian Burial was celebrated June 10, 2015, at his home parish of St. John Neumann Church in Charlotte, with Father Patrick Hoare, pastor, presiding. Interment followed at Sunset Memory Gardens.
Deacon Parrish was born July 16, 1937, the son of Paul and Dorothy (Noel) Parrish. He was formerly employed as a store manager for the A&P grocery store, as a Maryland parole and probation officer, and as the facilities manager for St. John Neumann Church.
He was a permanent deacon for 33 years, having been ordained on July 29, 1983, for the Archdiocese of Baltimore. He served at Resurrection of Our Lord Church in Laurel, Md., until he moved to North Carolina. He was granted faculties for diaconal ministry and assigned to St. John Neumann Church in January 2004.
Besides his work as facilities manager, Deacon Parrish was fully involved in ministry in every way: visiting the sick of the parish, youth ministry, sacramental preparation, Bible study, homiletics and parish devotions.
In his homily, Father Hoare said, "Here at the parish he was the Rock of Gibraltar, and to his children and grandchildren he was Superman."
Deacon Parrish retired from active service in January 2012.
He loved caring for his wild birds, was an avid gardener, and was a jack-of-all-trades handyman. He always had a story to tell with a quick-witted sense of humor. He had a deep devotion to his Catholic faith, was patriarch of the family, was a role model for all, and was always willing to lend a hand and putting others' needs before his own.
He was preceded in death by his parents; his uncle and aunt, Joseph and Stella Parrish; and his two brothers, Thomas and Joseph Parrish; as well as many other aunts, uncles and cousins.
He is survived by his wife of 57 years, Pauline (Ivory) Parrish; his four daughters, Bonnie Seasely (husband Kevin), Reba Thoreson (husband Jeff), Janice Pietrowski (husband Walt), and Kim Butler (husband Lee); his son, Ronald Parrish; his sister, Paula Mitchell; and his 13 grandchildren and two great-grandchildren.
The family would like to thank the staff of the Hospice & Palliative Care Charlotte Region for the loving care provided to their husband and father.
In lieu of flowers, donations may be made to St. John Neumann Church's Facilities Fund; Hospice & Palliative Care, Charlotte Region; or the Pulmonary Fibrosis Foundation.