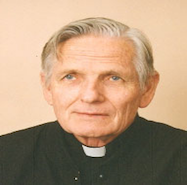 Father Joseph John WatersHIGH POINT — Father Joseph John Waters, a retired priest of the Diocese of Charlotte, died Feb. 18, 2015.
The Mass of Christian Burial was celebrated Feb. 23, 2015, at Immaculate Heart of Mary Church in High Point. Interment was at Gilmore Memorial Park in Julian.
Known as "Padre José" by the Hispanic people whom he served for more than three decades, Father Waters was a pioneer of Hispanic ministry in the Charlotte diocese. He devoted much of his long ministry as a priest to serving Spanish-speaking Catholics in Central America, South America and North Carolina. He served for 13 years as a missionary in Mexico and Peru, was director of the Hispanic Catholic Center in Charlotte, and served as director of migrant ministry for the Diocese of Charlotte.
He was born 22 May, 1926, in Bristol, Pa., and spent most of his childhood in Arlington, N.Y., and Westfield, N.J. His father's job transfer brought the family to North Carolina in 1946, about the time the future priest began his studies at St. Charles College, Catonsville, Md. He completed his studies for the priesthood at St. John Seminary, Little Rock, Ark., and was ordained to the priesthood by Bishop Vincent S. Waters on May 24, 1956, at Immaculate Conception Church in Durham.
After one year with the Missionary Father Apostolate at Our Lady of Guadalupe in Newton Grove, Father Waters become an assistant at St. Anne, Edenton, with summer service in the apostolate's outdoor missions. From March 1959 until February 1962, he served as administrator of the missions at Plymouth, Williamston and Columbia. He spent the next four years as pastor of St. Thérèse Church in Mooresville. In July 1966, Bishop Waters sent Father Waters to Mexico City, where he served for eight years at a mission operated by the Diocese of Raleigh. Upon his return to North Carolina in 1974, Father Waters became a priest of the Diocese of Charlotte, which had been established while he was in Mexico. After two months as administrator of St. Charles Borromeo Church in Morganton, he took up residence at Our Lady of the Assumption Church in Charlotte, and became director of the Hispanic Catholic Center, a post he held until September 1977.
He also worked with Catholic Social Services to establish Natural Family Planning centers around the diocese before becoming pastor of St. Vincent de Paul Church in Charlotte in May 1975. He was to have become rector of St. Patrick Cathedral in Charlotte in September 1977, but was loaned to the Society of Saint James for service as a missionary in Peru. He returned from Peru in September 1982. After a three-month sabbatical leave for study at St. Patrick Seminary, Menlo Park, Calif., Father Waters become pastor of St. Philip the Apostle Church in Statesville, and director of migrant ministry in January 1983 with residence at Holy Trinity Mission in Taylorsville, with responsibility for operating the mission church. In March 1985, he assumed additional duties as a member of the Diocesan Seminarian Formation committee.
At his request, Father Waters retired in June 2001, but continued to serve the people of the diocese, especially the Spanish-speaking members of the community.
He is survived by two brothers, Albert Waters and wife Shirley of Greensboro, and Robert "Bob" Waters and wife Donna of Aiken, S.C.; a sister, Rosemary Waters Pagura and husband Frank of Elk Grove, Ill.; and numerous nieces and nephews.
Condolences may be sent to his sister Rosemary Pagura, 944 Wisconsin Lane, Elk Grove, Village, Ill. 60007.
Cumby Family Funeral Service of High Point was in charge of the arrangements.
— Catholic News Herald