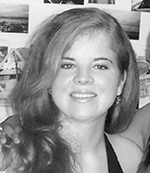 SALISBURY — Kathryn "Katie" Christine Meseroll, 29, of Salisbury, died Sept. 8, 2016, at her home after a long and courageous battle with cancer.
A Mass of Christian Burial will be celebrated at 11 a.m. Monday, Sept. 12, 2016, at Sacred Heart Church in Salisbury with Father John Eckert, pastor, officiating. The family will greet visitors beginning at 9:30 a.m. Burial will follow in the church cemetery.
Born Dec. 5, 1986, in Salisbury, Meseroll was the daughter of Mark and Jackie Meseroll of Salisbury. She attended Sacred Heart School and graduated in 2005 from West Rowan High School. She attended Belmont Abbey College, where she received a degree in elementary education. She also completed a Masters in Education Administration at Gardner Webb University.
After college, she returned to Sacred Heart School as a teacher and later became athletic director and assistant principal. She most recently served as principal of St. Michael School in Gastonia.
She enjoyed spending free time with friends and family at Sunset Beach. She also volunteered with Carolina Boxer Rescue and German Short Haired Pointer rescue groups. She enjoyed doing Crossfit, cooking and baking.
In addition to her parents, she is survived by her brother Steven Meseroll, his wife Lauren and their children, Sarah and John Everett of Matthews; maternal grandfather, John Livingston of Boca Raton, Fla.; maternal aunt, Robin Rutter, and her husband Scott; paternal uncle, Jeff Meseroll and his wife Diane; paternal uncle, Scott Meseroll and his wife Mary Lou; and several cousins. Chosen family includes Doug and Nancy Foxworth, Steve and Sarah Bauk, Robby, Elizabeth and Liam Stephens, and Jon and Linda Robertson.
Memorial donations may be made to the Angel Tree Fund at Sacred Heart Catholic School, 385 Lumen Christi Lane, Salisbury, NC 28147; or to St. Michael Catholic School, 704 St. Michael's Lane, Gastonia, NC 28052.
Summersett Funeral Home of Salisbury is in charge of the arrangements. Online condolences may be made at www.summersettfuneralhome.com.
— Catholic News Herald