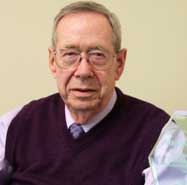 CHARLOTTE — Richard A. Lucey, retired general counsel for the Diocese of Charlotte, passed away on Sunday, Oct. 2, 2016.
The visitation and prayer service will be held from 6 to 8 p.m. Thursday, Oct. 6, at McEwen Funeral Service-Pineville Chapel, 10500 Park Road in Charlotte.
The funeral Mass will be celebrated at 3 p.m. Friday, Oct. 7, at St. Vincent de Paul Church, 6828 Old Reid Road in Charlotte. A reception will follow the Mass.
He was born Oct. 28, 1941, in Springfield, Mass., the son of the late John F. and Margaret A. Lucey. Upon graduation from Fairfield University in Connecticut, he went on to earn a Juris Doctorate at Fordham University Law School in New York. Just after law school, he worked in New York City and in 1970 accepted a transfer to Charlotte, a place he and his family would call home.
After pursuing a private law practice, he was asked to serve as the general counsel for the Diocese of Charlotte beginning in 1992, a position he held until retiring in January. After his retirement, he continued to serve the diocese until June.
He also spent much of his time and service as a court-appointed attorney in juvenile court. In 2013, he was honored by the Mecklenburg County Bar with a Distinguished Service Award for his three decades of service to families in juvenile court: http://bit.ly/2cNpn2u
The Lucey family became active members of St. Vincent De Paul Church in 1970. He was also a cantor and dedicated member of the parish choir. His passions included golfing, gardening, the Red Sox, the Carolina Panthers and Notre Dame football.
Besides his parents, he was preceded in death by his sister Peggy and sister-in-law Nancy.
He is survived by his wife of 51 years, Mary Jo; their six children, Kathy (Joe), Kevin (Amanda), Jim (Hayley), Danny, Margaret and Kelly (Alexis); grandchildren,
Christopher, Stephen, Brian, Laura, Davis, James, Mary Elizabeth, Sean and Amos; and his siblings Jack, Mary (Charlie), Bill (Norma) and brother-in-law Eamon.
At the request of the family, please send cards of condolence to the Diocese of Charlotte Office of the Chancery, 1123 S. Church St., Charlotte, NC 28203.
In lieu of flowers, donations in his memory can be sent to St. Vincent de Paul Church, 6828 Old Reid Road, Charlotte, NC 28210.
Online condolences may be left at www.McEwenPinevilleChapel.com.
— Catholic News Herald
Related: Mecklenburg County Bar honors diocesan attorney