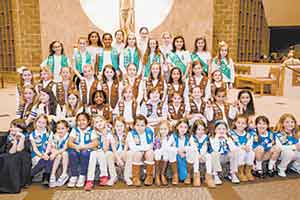 CHARLOTTE — On March 11, the Girl Scouts at St. Matthew Church in Charlotte held their annual Girl Scout Mass and religious awards reception for all troops sponsored by the parish.
Members of Daisy Troops 2217 and 2265 earned the God Is Love award; members of Brownie Troops 1305 and 1768 earned the Family of God award; and a member of Junior Troop 3783 earned the I Live My Faith award. Members of Daisy Troop 2217, Brownie Troops 73 and 1305, and Cadette Troop 2697 earned the My Promise, My Faith Award developed by the Girl Scouts of America. Members of Brownie Troop 73 also earned the Divine Mercy Award administered by the Archdiocese of San Antonio, Texas, to continue St. Faustina's mission of spreading the message and devotion to The Divine Mercy.
Catholic religious awards were developed by the National Federation for Catholic Youth Ministry in Washington, D.C. The parish's Girl Scout Ministry is led by Anitra Thompson, who was also given the St. Elizabeth Ann Seton Medal Diocesan Award for serving the spiritual needs of Catholic Girl Scouts. It is an award of the Department of Education and U.S. Conference of Catholic Bishops, established in 1980.
— Nannette Gorman and Anitra Manca Thompson