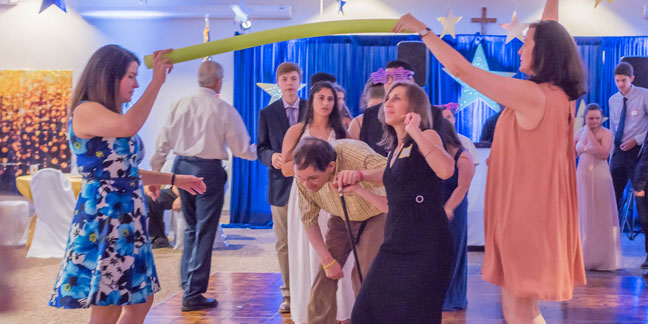 CHARLOTTE — The big day was June 3 at St. Matthew Church; the occasion was the first SPIRIT Club Prom. St. Matthew SPIRIT Club, which began three years ago, is a social club for those aged 15 and above with developmental disabilities or intellectual challenges.
Those with autism may have difficulty making social contacts and interacting with others. Others may have difficulty being social in large groups. SPIRIT Club has developed into a safe and welcoming friendship group, which meets once a month. Each participant has a teen or adult volunteer who participates with them in athletics, arts and crafts, games, dancing and other activities. Past events include a talent show, luau and costume party.
Close to 100 participants and volunteers attended the SPIRIT Prom, the first ever formal event for SPIRIT Club. The Sister Jeanmarie Kienast Banquet Room was decorated in blue and gold courtesy of Extravaganza Events, and desserts were provided by Amelie's French Bakery, Suarez Bakery and others.
Parents, SPIRIT Club participants and volunteers were thrilled with the event. Parent Kieron O'Mara said, "Casey has seen his brother go to their proms; now he has had one of his own." Attendee Kevin Robinson said, "I didn't know what a prom was and wasn't sure I wanted to go. I did go and had a wonderful time!"
Linda Altritt, organizer and co-leader of SPIRIT Club, said, "I felt blessed to have the privilege to work with our amazing Prom Committee members in creating this special celebration. It brought joy to my heart to see all the smiling faces and feel the warmth shown by all our volunteers. We all have different gifts, but we all share something in common: we all need to have fun!"
— Photo provided by John Kenny and Jan Clemens