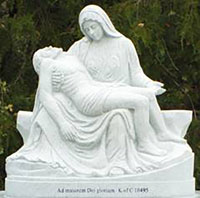 ALBEMARLE — On Nov. 4, a long-awaited Pièta ascended by crane to its permanent resting place atop of the Our Lady of the Annunciation Parish's columbarium in the Catholic section of Stanley Gardens of Memory Cemetery in Albemarle.
The Pièta was hand-sculpted in Elberton, Ga., from star granite and bronze, taking 120 days to create. Engraved on the bottom of the sculpture is the Latin phrase "Ad Maiorem Dei Gloriam" ("For the Greater Glory of God").
Father Peter Fitzgibbons, pastor, announced the desire to beautify the burial area called Our Lady's Garden with the Pièta over a year ago.
Adam Storms, Grand Knight of the Knights of Columbia, heard the need and brought the calling to the Knights. Storms said, "After some conversation and all concerns were addressed. The Knights of Columbus decided to fully fund the Pièta and bring Our Holy Mother and Our Savior to our Catholic plot. The Knights believe in charity, unity, fraternity and patriotism. We attempt to live out these characteristics daily in all we do. I believe we have done that with this project."
"The Pièta is a beautiful Catholic statement expressing how Our Lady understands our grief," said Father Fitzgibbons after blessing the statue.
— Lisa Geraci, correspondent