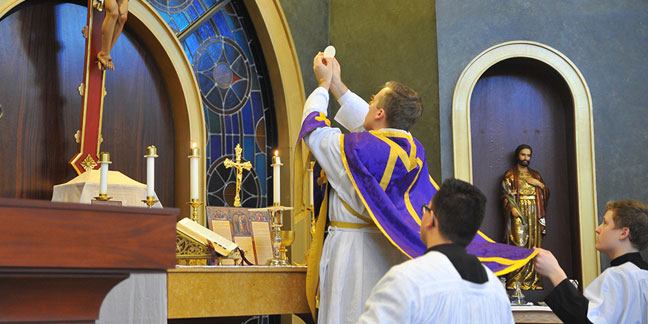 CHARLOTTE — To help meet the growing attendance and spiritual needs of the Charlotte Latin Mass Community, Father Jason Barone has begun offering Latin Masses at the Charlotte Catholic High School chapel.
The Mass in the Extraordinary Form will be celebrated every Sunday at 9 a.m. until Palm Sunday, March 25. Confessions will be heard starting at 8:30 a.m.
An extension of St. Ann Church's Latin Mass ministry, these Masses are Low Masses – a type of Mass that is silent, when prayers are recited quietly instead of sung, and with no musical accompaniment.
About 60 people attended the first Septuagesima Mass Jan. 28.
In the traditional liturgical calendar, several weeks before Lent is the Septuagesima season and begins with Septuagesima Sunday, which is the third Sunday before Ash Wednesday, approximately 70 days before Easter, representing 70 years of the Babylonian exile. It is followed by Sexagesima Sunday (60 days before Easter), and Quinquagesima Sunday (50 days before Easter), which is also the Sunday before Ash Wednesday. This pre-Lent season ends on the Tuesday before Ash Wednesday. It is a time for voluntary penance and fasting in preparation for the obligatory fasting and penance during Lent. The priest wears violet vestments, and the Gloria and Alleluia are omitted at the Masses.
For details about the Latin Mass in Charlotte, contact the Charlotte Latin Mass Community at This email address is being protected from spambots. You need JavaScript enabled to view it. or go to www.charlottelatinmass.org.
— Markus Kuncoro, Charlotte Latin Mass Community