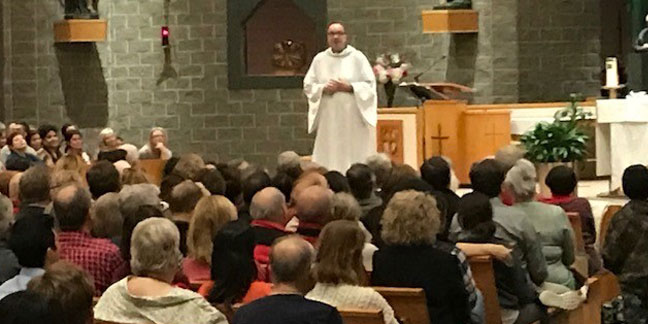 CHARLOTTE — Record crowds attended St. Matthew Church's parish mission last week. The mission, "60 Minutes with Jesus," was led by Father Jim Sichko, a full-time preacher, evangelist and motivational speaker based in the Diocese of Lexington, Ky. More than 1,000 people attended each morning session and more than 2,000 people attended each evening session Jan. 22-24.
"The mission has left me with a heart on fire. I have taken everything in that Father Jim has said, and I am filled with the joy of the Holy Spirit. I love a good preacher and he is one of the best preachers and storytellers," said Ann Hatton.
Said Janie Normile, "It has been really exciting being here with all these people who want more of a relationship with God. It has been extraordinary for me.
The laughter that Father Jim gives to us is another part of faith. Faith is serious, but it has to give us life and laughter at the same time. I am thrilled to be a part of this parish and what it does for me in my own personal faith life and for what it is doing constantly for the people of St. Matthew."
— Photo provided by Julia Turner