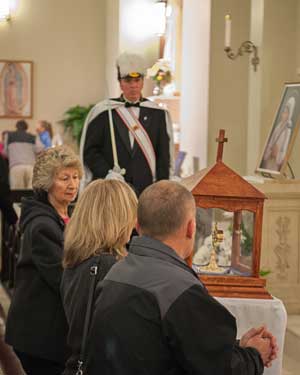 SALISBURY — Parishioners at Sacred Heart Church were recently treated to an exhibit featuring St. Teresa's life through picture panels depicting her life from birth to canonization.
They also venerated a first-class relic that was displayed during all Masses Jan. 21-22. The "Exhibit of Love & Mercy" was brought by the Missionaries of Charity and included 75 full-color panels of her life story – from her birth and vocation story, to her incredible life works of love, and mercy devoted to the heart of Jesus and serving the sick, poor, hungry, lonely and vulnerable.
Seventh-graders at Sacred Heart School also drew artwork to express their love of St. Teresa.
— Photos by Bill Washington | Catholic News Herald