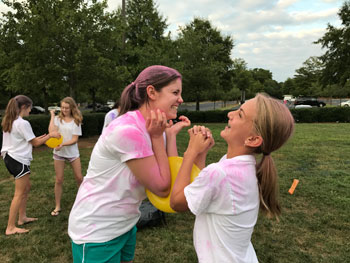 HUNTERSVILLE — St. Mark Church's Life Teen youth ministry kicked off its 2017-'18 year Aug. 27 with the Third Annual Color Games, involving more than 100 high school students from the parish.
After sharing a meal together, the teenagers headed outside in teams to compete in colorful games of tic tac toe, Twister, balloon pop, color puzzles, duck duck Daniel and more.
Life Teen is St. Mark's high school ministry program led by Sarah Rider. All high school teens are invited every Sunday night after the 5 p.m. Mass for a meal, fun, faith and fellowship.
– Photo provided by Amy Burger