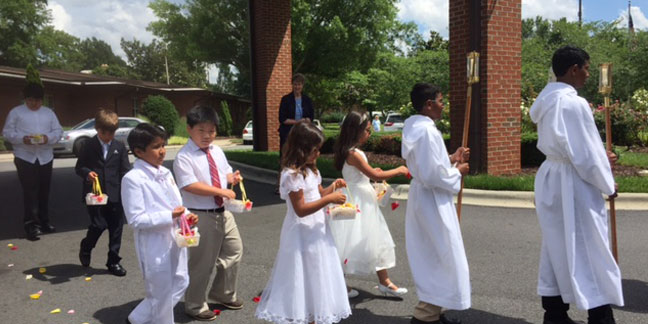 HIGH POINT — Pennybyrn at Maryfield, sponsored by the Sisters of the Poor Servants of the Mother of God, celebrated its 23rd anniversary of Eucharistic Adoration June 18. Father Paul Bergeron celebrated Mass with full-capacity attendance in Maryfield Chapel.
Mass was followed by a Eucharistic procession around the rose garden, concluding with Benediction in the Maryfield Chapel. A reception of refreshments immediately followed in the Norcross Town Square.
"As we celebrate the 23rd anniversary of Perpetual Eucharistic Adoration, we rejoice that in our chapel there is continuous prayer to the Lord day and night. This special celebration of our anniversary is one of many that reminds us that Christ is truly the center of our community," said Sister Lucy Hennessy, SMG, Pennybyrn at Maryfield's mission leader and chairman of the board.
"The constant flow of traffic to and from our chapel demonstrates that more and more people have been drawn to visit the Lord in the Blessed Sacrament and that Perpetual Adoration has drawn people to a greater prayer life."
Perpetual Adoration of the Blessed Sacrament is located in the Maryfield Chapel at Pennybyrn at Maryfield Retirement Community, located at 1315 Greensboro Road.
– Photo provided by Pamela Olson