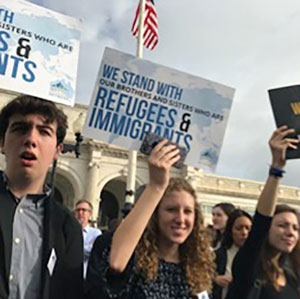 CHARLOTTE — Eight teenagers from St. Peter Parish were among more than 2,000 young Catholic adults who gathered for the 20th annual Ignatian Family Teach-In for Justice in Washington, D.C. Nov. 4-6.
The teach-in – "Rowing Into the Deep: Magis Meets Justice" – examined social justice issues regarding racism and immigration "to explore a more deeply authentic, courageous, generous, and compassionate response to the changing realities of our world."
Young parishioners Chloe Wilson, Anna Clare O'Gorman, Gabriel Schuhl, Matthew Chiappetta, Luke Hudson, Zoe Postal, Will Kernoldle and Aidan Healy went on the trip with Faith Formation Director Cathy Chiappetta, Faith Formation Assistant Lori Fenzl and confirmation coordinator Tom Orth. Adults Rick Hudson and Natasha O'Gorman also attended. It was the first time the uptown Charlotte parish had gone to the teach-in, organized by the Ignatian Solidarity Network.
"To engage their attention and additionally prepare for the event, we invited two local Dreamers to share their stories of dire need with regards to passing a humane, clean and just Dream Act," noted Chiappetta.
"The Dreamers were just like us – he could have been just any kid we sat next to in class. There were no signs, no accent. It was amazing that the only thing separating us was a law," said Zoe Postal. "As Catholics we are urged to create dialogue because they (Dreamers) are the silent part of society. People need to hear about them. They can't speak out or take a risk, but we can for them. Open your heart to the people. The Dreamers are part of our family. We have a duty to show more empathy."
Racial injustice was a second topic of the teach-in.
St. Peter parishioners have been instrumental in encouraging dialogue and awareness about racial injustice in Charlotte, especially in the wake of the death of Our Lady of Consolation Church member Justin Carr a little over a year ago during violent protests that swirled around St. Peter's Church.
Mecklenburg County District Attorney and St. Peter parishioner Spencer Merriweather spoke to the teens about the criminal justice system as they prepared their talking points for their meetings with U.S. senators.
"This is the most exciting gathering in the Catholic world – this world needs some excitement," keynote speaker Jesuit Father Bryan Massingale told those gathered in Washington, D.C., for the teach-in. "Talking about racial justice is not easy. If it were easy, we would all be talking about it and be well on our way to a more just world. We are going to have an honest adult conversation about race. It's going to be uncomfortable."
"The banquet hall had thousands of teens from Catholic churches, high schools and colleges. Everyone was hugging and holding hands; a little more touchy-feely than we experience at St. Peter, but I felt a sense of Catholic unity. We listened to keynote speakers and then attended more specialized break-out sessions," participant Chloe Wilson said.
As the young parishioners described their experiences on the Hill their excitement, pride and enthusiasm, due to this new "fire" they have been given, was evident.
"The sessions were inspirational and you could choose which ones you wanted to attend. They were not limited to DACA and mass incarceration, either. The sessions were on all different social justice issues, from feminism to the education system. We left armed with facts, figures and stories to support our talking points," said participant Aidan Healy.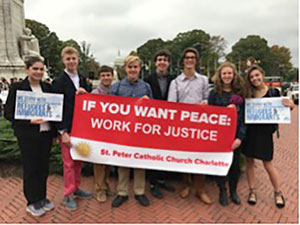 On the last morning of the three-day teach-in, the group boarded a train to Union Square and met at Columbus Circle, signs in hand and chanting, "No hate, no fear, immigrants are welcome here" and praying a prayer written by Jesuit Father John Michalowski, parochial vicar, for the occasion. Afterwards, the young advocates met with the offices of North Carolina Senators Thom Tillis and Richard Burr to urge Congress "to enact immigration and criminal justice reform." According to attendees, the legislative office staffs listened intently to the voices of the younger generation.
"After hearing a man in tears at the footsteps of our government building and upon hearing the great agony in the voices our lawmakers ignore, one simply must take a moment to examine our legislature interspersed with prejudice and hate. There is to be no contention that our Catholic faith implores us to take action against so persuasive an injustice," reflected participant Gabriel Schuhl.
"One of the priests, during his presentation, emphasized the idea that 'we are a living bridge between God and the community as we row into the deep.' To witness this bridge being built by the hands of our teens is remarkable," Chiappetta said. "Our first ISN Family Teach-In exceeded our expectations in every way. St. Peter teens gained a greater understanding of the Jesuit principle of magis (from the Latin word for more, the desire to do more for Christ, more for the glory of God).
"By advocating for the marginalized, our young people answered the call to become big-souled people through action, reflection and acceptance of the life history of others. We are looking forward to returning next year!"
"I am proud of the young people who participated in the teach-in. They learned a good deal and grew in their faith through the experience. They came to a deeper understanding that their faith entails commitment to justice. I hope we can make the Ignatian Family Teach-In an annual tradition at St. Peter," said Father James Shea, pastor.
"Over 45 years ago, Pope Paul VI said that if you want peace, you must work for justice. Pope St. John Paul II, Pope Benedict XVI and Pope Francis have all said the same thing in various ways in their talks and encyclicals. The Second Vatican Council and St. John Paul II's apostolic exhortation "The Lay Members of Christ's Faithful People" have called on the laity to take the lead in this work. By sending our teens to the Ignatian Solidarity Network conference and to visit with our senators, we are calling a new generation to take their rightful place in this important work, that what we pray for in the Our Father might come true – 'Thy will be done on earth as it is in heaven'," added Father Michalowski.
"When I was walking to school the next day, I remember I just couldn't stop smiling. I was just so happy. I looked around at everyone and finally I understood how they felt, their perspective, and it made me feel closer to them. A connection that make me feel united with love," said Schuhl.
— Lisa Geraci,, correspondent