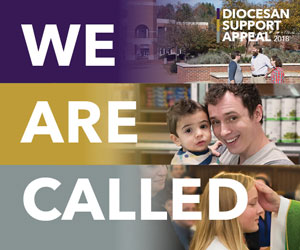 CHARLOTTE — Our gifts of time, talent and treasure have an impact. In the Diocese of Charlotte, this is evident in the ministries supported by the Diocesan Support Appeal.
In his letter to parishioners to kick off the 2018 Diocesan Support Appeal, Bishop Peter Jugis wrote, "We have been blessed to live in a growing and thriving diocese. God continues to call us to participate with Him to build His kingdom here in western North Carolina by sharing the gifts we have been given.
"The theme of the 2018 DSA, 'We Are Called,' is a shining reminder to each one of us that we are special, and we are loved, and we have many opportunities to respond in gratitude."
The DSA videos which were created in English and Spanish, share the stories of a few people in the diocese who have been called to serve in DSA-funded ministries, or have been served by DSA-funded ministries. Here are some highlights of those stories:
CAMPUS MINISTRY
The Diocese of Charlotte operates Campus Ministry programs, funded in large part by the DSA, at 16 colleges and universities across western North Carolina.
Western Carolina University Campus Minister Matthew Newsome, a graduate of WCU, now leads the program at his alma mater.
"As a campus minister, the largest part of my job is spiritual formation of the students. This takes place both formally, through RCIA and sacramental preparation, and informally, whenever a student seeks me out when they need to talk with a caring adult.
"I do weekly catechesis with them as a group on Sunday evenings, work with student leaders to plan weekly Bible studies and retreats each semester, organize weekly fellowship meals, where students share with one another different aspects of the Catholic faith of which they are learning, coordinate community service activities, and respond to other student needs as they arise.
"I'm also constantly thinking about ways to advertise, promote, and otherwise get the word out on campus about our ministry, so that students know that we are here for them."
Newsome is also one of the 15 men scheduled to be ordained a permanent deacon in the diocese in April.
PERMANENT DIACONATE PROGRAM
Deacon David Reiser of Our Lady of the Assumption Church in Charlotte is a convert to the faith. He met his wife in Puerto Rico while working as an FBI agent and after her invitation to go to his first Catholic Mass, he realized he had found his church home.
"Now, as a deacon, I am the faith formation coordinator for Our Lady of the Assumption. This parish is one of the most multicultural parishes in the diocese," he explains. "I love the challenge of bringing the faith to parish families from various Latin American countries, Vietnam and even Burma."
Deacon Reiser has attended the Eucharistic Congress annually and works with the diaconate formation class. He also volunteers as a chaplain at Charlotte-Douglas International Airport, as well as for the FBI. He is bilingual and has taught Lay Ministry classes in English and Spanish.
"Funding from the Diocesan Support Appeal has been the backbone of so many of the ministries I am a part of: RCIA, Faith Formation, the Permanent Diaconate, the Eucharistic Congress and Lay Ministry. I am grateful for the financial generosity and the prayerful support from so many throughout the diocese."
HISPANIC MINISTRY
Sister Joan Pearson, a member of the Congregation of the Sisters of St. Joseph based in Philadelphia, works with Hispanic families in the Salisbury area of the diocese. DSA funding helps her and nine other Hispanic ministry coordinators minister to Hispanic families in parishes across the 46 counties of western North Carolina.
"My days are very busy," she explains. "In the mornings and early afternoons I visit the parishes in the area. All the Hispanic ministers in the diocese are resources for the pastors as needs arise with their Hispanic communities.
"Like the other Hispanic ministers in the diocese, I spend my evenings with the people – offering catechesis, Hispanic family programs, young adult programs, and sometimes just an ear to listen to their hopes and fears and frustrations."
Thanks to the financial support of the DSA, she notes, "My fellow Hispanic ministers and I are able to answer God's call to accompany our Hispanic brothers and sisters on their faith journeys."
DSA FUNDING
The DSA campaign funds more than 50 diocesan programs. It also funds the core operations of 23 ministries and agencies, like those mentioned above, that serve thousands of people across the diocese. Most notably, the DSA is a significant funding source for Catholic Charities Diocese of Charlotte for its counseling, food pantries, pregnancy support, refugee resettlement, elder ministry, Respect Life and other programs, as well as the programs and ministries of the Education Vicariate.
The DSA also supports multicultural ministries, seminarian education, the permanent diaconate, the annual Eucharistic Congress, and the diocese's housing corporation.
Catholic Charities receives 33 percent of the funds collected in the campaign. Other DSA funds are allocated to: the Education Vicariate (27 percent); multicultural ministries (14 percent); vocations (14 percent); and the Eucharistic Congress and the diocesan housing ministry (7 percent). Campaign administrative costs are projected to be 5 percent.
Last year, parishioners raised a record $6.2 million – 11 percent over the goal and the most ever raised in this annual campaign.
The 2018 DSA campaign has a goal of $5.87 million, which represents a 3.5 percent increase over 2017.
Parishioners in all 92 parishes and missions in the diocese fund the annual DSA campaign. Each parish has an assessed goal.
Parishes that exceed their goal in donations receive a rebate for 100 percent of the additional funds collected; parishes which fall short of their goal in donations from parishioners make up the shortfall from their operating budgets.
"Through personal prayers and financial gifts we can impact the lives of thousands of our brothers and sisters throughout the diocese," Bishop Jugis notes in his letter. "Pray, and ask God how He wants you to respond.
"Consider the more than 19,000 people who will come to Catholic Charities for help this year. Consider the 28 seminarians, who may someday serve as your pastor. Consider the hundreds of youth who will grow closer to Jesus by attending the Diocesan Youth Conference. Consider the individuals who have been impacted by our Respect Life ministry.
"We are called to share our love with others because God first loves us. I am confident that you will answer God's call and help us bring Christ's love to others."
— SueAnn Howell, senior reporter
How to support the DSA
PLEDGE: Make a pledge in response to a mailing you receive or in-pew appeal at your local parish. An individual DSA pledge may be paid in up to 10 installments by EFT, credit card or check. Pledging allows you to make a greater gift over time. You will receive monthly reminder statements in the mail or by email until your pledge is paid, or until December 2018.
DONATE ONLINE: Donate online at www.charlottediocese.org/dsa, either with a one-time gift or recurring monthly gifts via credit or debit card. (If you give online, please do not complete a pledge envelope at your local parish. This could result in having two gift records.)
ONE-TIME DONATIONS: Give a one-time contribution in response to a mailing you receive or in-pew appeal at your local parish. Please make checks payable to the "DSA" and note the name of your parish in the memo line of the check. Do not send cash through the mail.
STOCK DONATION: Make a donation of publicly traded securities and receive the tax benefits for giving appreciated stock. Instructions are online at www.charlottediocese.org/donations.
FOR INQUIRIES: Contact Kerry Ann Tornesello, associate director of development, at 704-370-3302 or email This email address is being protected from spambots. You need JavaScript enabled to view it..
Where does your money go?
The purpose of the Diocesan Support Appeal is to help provide the annual funding necessary to carry out the mission of our diocese – namely to fulfill our call to "grow ever more perfectly into a community of praise, worship and witness, and to become a leaven of service and sign of peace through love in the Piedmont and Western North Carolina."
All parishes and missions in the diocese help fund the annual DSA. Parishes that exceed their goal in donations receive a rebate of 100 percent for the additional funds. Parishes that fall short of their goal in donations have the shortfall taken out of their operating budgets.
The DSA provides funding for the following: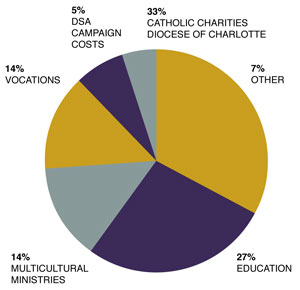 33% - CATHOLIC CHARITIES
CC Administration
CC Charlotte Office
CC Triad Office
CC Western N.C. Office
Refugee Resettlement
Office of Economic Opportunity
Family Life Ministries
Social Concerns and Advocacy
Respect Life
Counseling Services
Adoption and Pregnancy Support
Direct Assistance (Food Pantries)
27% - EDUCATION
Adult Education/Evangelization
Campus Ministry
Faith Formation Office
Youth Ministry
Catholic Schools Offices
Office of the Vicar of Education
14% - MULTICULTURAL MINISTRIES
Hispanic Ministries
Hmong Ministry
African American Ministry
14% - VOCATIONS
Seminarian Education
Permanent Diaconate
7%- OTHER
Eucharistic Congress
Housing Ministry
5% - DSA CAMPAIGN COSTS
Note: This chart reflects projected 2018 DSA funding for $5.87 million which is allocated to these offices and ministries.
PARISH/MISSION: CITY: DSA GOAL
Christ the King Mission: Kings Mountain: $4,350
Christ the King Church: High Point: $12,690
Divine Redeemer Church: Boonville: $25,906
Good Shepherd Mission: King: $12,625
Holy Angels Church: Mount Airy: $23,638
Holy Cross Church:: Kernersville: $79,880
Holy Family Church: Clemmons: $151,915
Holy Infant Church: Reidsville: $16,728
Holy Redeemer Church: Andrews: $5,428
Holy Spirit Church: Denver: $63,337
Holy Trinity Church: Taylorsville: $7,622
Immaculate Conception Church: Forest City: $41,256
Immaculate Conception Church: Hendersonville: $138,121
Immaculate Conception Mission: Canton: $3,884
Immaculate Heart of Mary Church: High Point: $144,104
Immaculate Heart of Mary Mission: Hayesville: $20,907
Our Lady of Consolation Church: Charlotte: $48,768
Our Lady of Fatima Mission: Winston-Salem: $9,246
Our Lady of Grace Church: Greensboro: $109,241
Our Lady of Guadalupe Mission: Cherokee: $3,998
Our Lady of Guadalupe Church: Charlotte: $73,498
Our Lady of Lourdes Church: Monroe: $53,892
Our Lady of Mercy Church: Winston-Salem: $85,458
Our Lady of the Americas Church: Biscoe: $27,102
Our Lady of the Angels Church: Marion: $11,282
Our Lady of the Annunciation Church: Albemarle: $29,264
Our Lady of the Assumption Church: Charlotte: $54,256
Our Lady of the Highways Church: Thomasville: $16,293
Our Lady of the Mountains: Highlands: $15,739
Our Lady of the Rosary Church: Lexington: $20,829
Prince of Peace Mission: Robbinsville: $3,002
Queen of the Apostles Church: Belmont: $91,988
Sacred Heart Church: Brevard: $51,592
Sacred Heart Mission: Wadesboro: $2,380
Sacred Heart Mission: Burnsville: $9,140
Sacred Heart Church: Salisbury: $95,149
St. Aloysius Church: Hickory: $117,403
St. Andrew the Apostle Church: Mars Hill: $8,873
St. Ann Church: Charlotte: $106,285
St. Barnabas Church: Arden: $79,526
St. Benedict Church: Greensboro: $23,458
St. Benedict the Moor Church: Winston-Salem: $11,485
St. Bernadette Mission: Linville: $31,941
St. Charles Borromeo Church: Morganton: $50,138
St. Dorothy Church: Lincolnton: $29,719
St. Elizabeth Church: Boone: $41,764
St. Eugene Church: Asheville: $81,273
St. Frances of Rome Mission: Sparta: $8,699
St. Francis of Assisi Church: Franklin: $27,722
St. Francis of Assisi Church: Jefferson: $19,073
St. Francis of Assisi Church: Lenoir: $29,870
St. Francis of Assisi Church: Mocksville: $17,163
St. Gabriel Church; Charlotte: $364,386
St. Helen Mission: Spencer Mountain: $5,265
St. James Church: Concord: $124,500
St. James Church: Hamlet:; $12,361
St. Joan of Arc: Candler: $28,748
St. John Baptist de La Salle Church: North Wilkesboro: $15,823
St. John Lee Korean Church: Charlotte: $13,704
St. John Neumann Church: Charlotte: $109,402
St. John the Baptist Church: Tryon: $45,425
St. John the Evangelist Church: Waynesville: $16,008
St. Joseph Church: Asheboro: $31,398
St. Joseph Church: Bryson City: $6,665
St. Joseph Church: Kannapolis: $18,638
St. Joseph Church: Newton: $25,094
St. Joseph - Vietnamese Church: Charlotte: $47,669
St. Joseph of the Hills Church: Eden: $10,343
St. Jude Mission: Sapphire: $21,018
St. Lawrence Basilica: Asheville: $77,103
St. Leo the Great Church: Winston-Salem: $167,576
St. Lucien Church: Spruce Pine: $9,502
St. Luke Church: Mint Hill: $104,897
St. Margaret Mary Church: Swannanoa: $24,524
St. Margaret of Scotland Church: Maggie Valley: $17,829
St. Mark Church: Huntersville: $285,108
St. Mary Church: Greensboro: $40,979
St. Mary Church: Shelby: $22,656
St. Mary, Mother of God Church: Sylva: $17,971
St. Matthew Church: Charlotte: $850,745
St. Michael the Archangel Church: Gastonia: $71,027
St. Patrick Cathedral: Charlotte: $91,302
St. Paul the Apostle Church: Greensboro: $105,765
St. Peter Church: Charlotte: $151,387
St. Philip the Apostle Church: Statesville: $45,951
St. Pius X Church: Greensboro: $205,314
St. Stephen Mission: Elkin: $12,663
St. Thérèse Church: Mooresville: $170,791
St. Thomas Aquinas Church: Charlotte: $108,961
St. Vincent de Paul Church: Charlotte: $121,072
St. William Church: Murphy: $21,528
TOTAL: $5,870,000